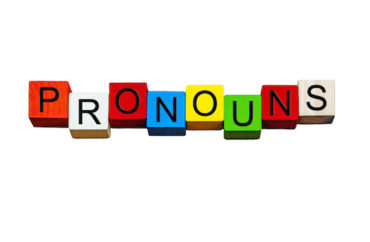 Three male students at a Wisconsin middle school have been charged with Title IX-based "harassment" for allegedly using "incorrect pronouns" with a classmate.
According to WBAY.com, the trio did not use their classmate's "requested pronouns of 'they' and 'them.'" A section in the Title IX law "prohibits gender-based harassment in the form of name-calling on the basis of sex."
The mother of one of the students said she told Kiel Area School District officials "the use of the pronouns was confusing to her son," and as such she told him to call the classmate by their actual name.
She added her son "had no obligation" to use the classmate's desired pronouns and that sexual harassment means things like "rape, incest [and] inappropriate touching."
She asked "What did my son do? He's a little boy. He told me that he was being charged with sexual harassment for not using the right pronouns."
Attorneys from the Wisconsin Institute for Law & Liberty (WILL) want the charges against the Kiel Middle School boys dropped and their records expunged — or else there is "a strong possibility" they'll sue the school district.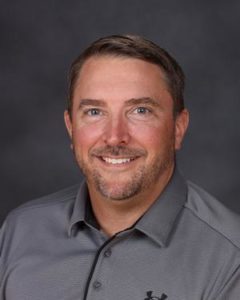 In a letter addressed to Kiel Superintendent Brad Ebert, Title IX Compliance Officer Megan Kautzer and Principal/Title IX Investigator Chad Ramminger (pictured), the attorneys detail how the complaint and investigation into the matter were "wholly inappropriate."
"The mere use of biologically correct pronouns not only does not constitute sexual harassment under Title IX or the District's own policy, it is also speech protected by the First Amendment," the letter reads. It notes that while both policies contain a "catchall for 'unwelcome conduct,'" courts have "made clear" such does not cover things such as "commonplace schoolyard altercations, [such as] name-calling, teasing, and minor physical scuffles […] even where these comments target differences in gender."

MORE: Here's why asking for gender pronouns is like a religious test
In a statement, Superintendent Ebert said "[The district] prohibits all forms of bullying and harassment in accordance with all laws, including Title IX, and will continue to support ALL students regardless of race, color, religion, national origin, ancestry, creed, pregnancy, marital status, parental status, sexual orientation, sex (including transgender status, change of sex or gender identity), or physical, mental, emotional or learning disability ('Protected Classes') in any of its student programs and activities; this is consistent with school board policy. We do not comment on any student matters."
This is unreal. A Wisconsin school district filed a Title IX complaint against 3 middle school students, accusing them of sexual harassment for using incorrect pronouns when addressing another student. pic.twitter.com/GEEjXoEnxW

— Libs of TikTok (@libsoftiktok) May 13, 2022
Although the Wisconsin Institute for Law & Liberty letter lists Mr. Ramminger as "Title IX Investigator," the district website only has him as principal of Zielanis Elementary School and an administrator of Between the Lakes Virtual Academy. WILL attorney Luke Berg told The Fix via email he wasn't certain if Ramminger officially has a title involved with Title IX, but does "for purposes of the allegations against the boys."
The letter also notes Ramminger had asked "unrelated" questions of the accused students during interviews. When one parent inquired about getting a lawyer, Ramminger responded with "you could, but how would that look?"
Ramminger did not respond to a request from The Fix for comment.
The Libs of Tik Tok Twitter thread from above notes Ramminger has since deleted his Twitter account, and a Google search shows he's likely deleted his Linkedin page too: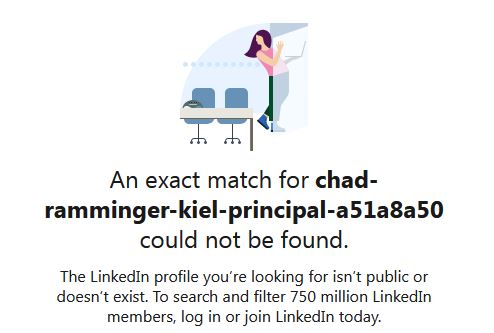 MORE: 'Yoga studies' prof makes students use gender pronouns on coursework under threat of penalty
IMAGES: Ed Samuel/Shutterstock.com; Kiel Area School District; Linkedin screencap
Like The College Fix on Facebook / Follow us on Twitter