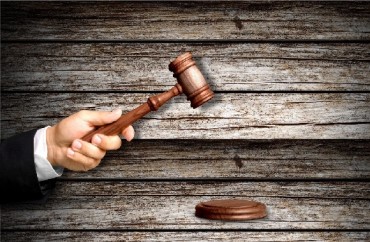 UPDATED
Nearly two months after a violent mob disrupted a talk by political scientist Charles Murray at Middlebury College, the institution has announced "disciplinary sanctions" against thirty students involved in a demonstration against Murray's speech.
The Boston Globe reports that Middlebury has identified "more than 70 individuals" involved with the demonstration, and has handed down punishment to about half of those individuals. Middlebury released a statement affirming that the college "will not comment on the nature or range of the sanctions until the process is complete." The college expects the entire investigation to be over by mid-May.
"At this point," the statement concluded, "there is no unambiguous evidence that any member of the Middlebury College faculty violated faculty policies in regard to their actions on March 2."
Bill Burger, a college spokesman who was with Murray and Stanger during the fracas, said Friday night that school officials "don't believe the individuals who assaulted Professor Stanger were Middlebury students."

He said Middlebury police are close to completing their own investigation. Police officials could not be reached for comment on Friday night.

The episode garnered national headlines and ignited a fierce debate over free speech on traditionally liberal campuses, particularly in the wake of President Trump's November election victory that left much of the country sharply divided along ideological lines.

Murray, a graduate of Harvard and MIT, took to Twitter soon after the protest and derided the demonstrators as "an out-of-control mob" that physically assaulted him and Stanger. "The Middlebury administration was exemplary," he tweeted. "The students were seriously scary."
In the wake of the demonstration and the violent riot, the chair of Middlebury's political science department apologized for co-sponsoring Murray's visit to campus.
CLARIFICATION: The headline and post have been modified to clarify that Middlebury has punished only students who attempted to shout down Charles Murray inside his speaking venue.
MORE: Professor at conservative speaker's talk attacked by protesters, put in hospital
Like The College Fix on Facebook / Follow us on Twitter