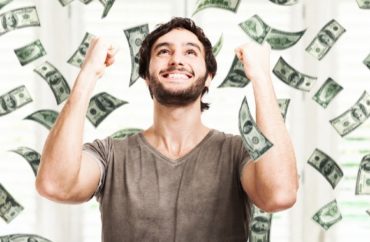 A widely-shared graph about generational wealth is misleading, Professor Horpedahl says
An economics professor at the University of Arkansas said that a widely-shared graph about generational wealth differences is misleading. In fact, Millennials and Gen X are likely to end up wealthier than their parents.
Professor Jeremy Horpedahl said that the levels of student loan debt now could be used as a predictor for future income and wealth levels. Wealth is commonly calculated as assets minus liabilities.
"Millennials will be wealthier than Boomers once they hit their 40s is because they are a more educated generation, and thus will have higher potential earning power," Horpedahl told The College Fix via email. "The fact that more young people today are going to college and getting more advanced degrees means that when they are in their 30s, they will have less wealth than past generations."
"But by the time they get to their 40s, they probably now have at least a decade worth of working (and thus building wealth)," Horpedahl said. He said that "many have already paid off their student loans."
He provided further analysis in a September blog post that addressed a graph based on a 2019 Washington Post article. But the graph shows up every few months, the professor said and needed to be corrected.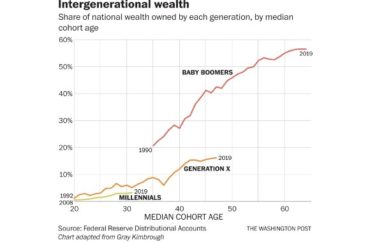 The chart shows that baby boomers have a higher share of the national wealth than Gen X'ers and Millennials.
"My prediction is that by the time Millennials are in their late 40s, they will even surpass Gen X in wealth. Why? The reason is counterintuitive: student debt," Horpedahl said.
"Right now, many Millennials (and some Gen Xers!) hold a lot of student debt. That goes on the liabilities side of the balance sheet," the professor said. "But there is no corresponding asset showing up the balance sheet, but there is an asset: their human capital! Over their lifetime, that human capital will give them even greater earning potential in later life."
"Much like Gen X basically tracked Boomers until their mid-40s, until their student loans were paid off, and their degrees (and graduate degrees!) really started to pay off in the labor market," the economist said.
He told The Fix that some professions will have quick swings from high-level of debt to a high-level of income.
"[B]ecause so much of the debt is concentrated among graduate students, we will really see these swings in wealth being low when they are young (and still in school plus the decade or so after school), but then graduate degrees will really pay off over their entire working career," he said.
"If we think about medical doctors, lawyers, and academic PhDs (like me), they may well be in school into their early 30s," he told The College Fix. "So they'll have lots of debt, but not much in terms of assets (yet). But their earnings will be so much higher over their working career, that by the time they retire they will have pulled very far ahead of past generations (and their peers who had only a 4-year degree or less)."
The economist concluded his blog with reassuring words for Millennials and their concerned (and wealthy) parents.
"Millennials! They are doing OK!"
MORE: Online course platform could slash student loan debt by thousands
IMAGE: Minerva Studio/Shutterstock.com
Like The College Fix on Facebook / Follow us on Twitter