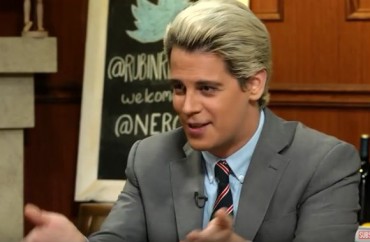 De Blasio asked to have visit postponed 'for public safety reasons'
A controversial campus speaker's visit to New York University has been delayed after the mayor of the city asked the school to postpone it for "public safety reasons."
Milo Yiannopoulos, the writer and provocateur made famous for his incendiary commentary and his "Dangerous Faggot" campus speaking tour, was scheduled to speak in the Liberal Studies class of New York University professor Michael Rectenwald. The university has postponed that appearance after a request from Mayor Bill De Blasio, Washington Square News reports.
"Bill de Blasio today requested that NYU postpone and reschedule the classroom appearance by Milo Yiannopoulos for public safety reasons in light of the nearby Halloween parades and [New York Police Department] assessments of risk," a school spokesman said, according to the student newspaper.
"Given the importance of close coordination between NYU's Public Safety personnel and the NYPD to ensuring safety, the university agreed to the postponement," the school's statement added.
There is "no makeup date scheduled as of now," according to the paper
From the report:
"[The] entire city of New York is terrified of one gay man stepping out of line and calling out the Left as the intolerant, censorious crybabies they are," Yiannopoulos said to Rectenwald in a statement obtained by WSN. "And they just proved it — by censoring me again. I couldn't ask for more conclusive proof."

Rectenwald also disagreed with the decision to postpone the event.

"While Milo Yiannopoulos is blamed for the threat to public safety, leftist protesters are the ones who pose the actual danger, with their proclivity for violence," Rectenwald said in an email to WSN. "I was merely trying to arrange a cultural exchange between my class and a harmless person from the center-right."

New York City Council members urged NYU to reschedule the visit earlier today, citing the day's proximity to the shooting of a synagogue in Pittsburgh and the fact that police would already spread thin by the annual Halloween parade held in Greenwich Village.
This is not the first time the university has altered a scheduled appearance by Yiannopoulos. In 2016 the school "canceled a planned Yiannopoulos visit, citing concern for the safety and well-being of its students," the student paper reports.
MORE: Milo Yiannopoulos shouted down at UC Berkeley
IMAGE: Rubin Report / Youtube.com
Like The College Fix on Facebook / Follow us on Twitter