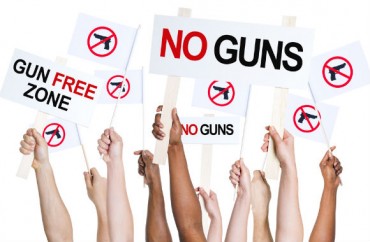 Instructor claims university's gun policy is unconstitutional after state passed 'strict scrutiny' on gun restrictions
A University of Missouri professor is suing his employer for banning guns on campus, claiming that the university policy is unconstitutional after the state strengthened its gun rights in 2014.
Royce de R. Barondes, an associate professor of law at the university, is questioning the campus's gun policy, which states that "the possession of firearms on university property is prohibited except in regularly approved programs or by university agents or employees in the line of duty."
Barondes is a concealed carry permit holder in the state of Missouri and also teaches a course on firearms law, according to The Washington Times.
The state amended its constitution in 2014 to provide "strict scrutiny" of gun restrictions. The amendment reaffirms the state's commitment to the Second Amendment and states that the right to keep and bear arms cannot be questioned and is "unalienable."
"This case is an opportunity for good constitutional jurisprudence with us passing an amendment to our constitution last year," said Barondes's lawyer Jennifer Bukowsky, according to The Times. "The university's rule is so obviously in violation of our state's constitution, we see this case as being the best vehicle to protect one of our nation's very first freedoms — our freedom to self-defense," she added.
Reached for comment via email, Barondes told The College Fix: "The Curators of the University of Missouri have specifically cited my alleged statements to the media as a basis for filing counterclaims against me and seeking attorneys' fees. I would like to provide further comments, but, to avoid further retaliation from my employer, at this time I am constrained to stand on my legal filings in this case."
The College Fix reached out to Mizzou's police department for comment on the school's gun policy. "It is our job to enforce the laws and policies and we will continue to do so," Brian Weimer of the Mizzou police department told The Fix via email. Additional queries to the police department were not returned.
Currently, there is an effort by lawmakers in 14 states to push for bills that would allow concealed carry on college campuses, with numerous other states already allowing the practice. Texas Gov. Greg Abbott signed a bill in 2015 giving Texans the right to carry concealed handguns on campuses. And earlier this year, Georgia enacted a law permitting limited concealed carry on campus. The state of Colorado, meanwhile, has allowed campus carry since 2003.
MORE: Legal Experts: Campus Gun Bans Flawed, Unconstitutional
MORE: In victory for gun rights activists, district court tosses anti-campus carry lawsuit
IMAGE: Shutterstock
Like The College Fix on Facebook / Follow us on Twitter