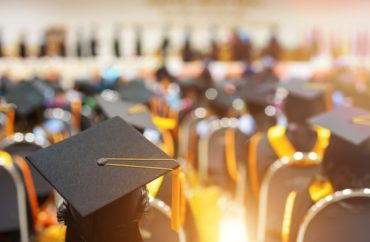 This month and next dozens of universities across the nation, from private top-tier schools to public state institutions, will host segregated graduation ceremonies and celebrations for their black graduates.
These supplementary ceremonies are voluntary and are offered in addition to the universities' regular graduations. Sometimes they're co-hosted by black campus resource centers and various academic departments. They serve to give extra honors and recognition to black students earning their degrees.
The popularity in offering these segregated graduations also seems to be growing. A new report by the National Association of Scholars that looked at 173 schools found that 76 of them, or 44 percent, offer such ceremonies.
Many others also offer similar ceremonies for Latino or LGBTQ student populations. Harvard this year also debuted a "UndocuGraduation" for students in the country illegally.
As for the black graduations, a few notable universities they're held at include UC San Diego, UC Irvine, Harvard, Stanford, UC Berkeley, UCLA, Yale and Arizona State University.
Erika Johnson, a spokesperson for UC San Diego, told The College Fix that the Black Resource Center at the university hosts its ceremony.
"Numerous campus programs and organizations hold supplementary celebrations to honor student achievement—these do not substitute university commencement ceremonies. The Black Resource Center is an example of this and holds the Black Graduation Ceremony as an additional pre-commencement celebration to honor the academic achievements of graduating students," she said via email.
The New York Times reported in 2017 that "participants say the ceremonies are a way of celebrating their shared experience as a group, and not a rejection of official college graduations, which they also attend. Depending on one's point of view, the ceremonies may also be reinforcing an image of the 21st-century campus as an incubator for identity politics."
The National Association of Scholars, in its report, called the separate commencements an example of "neo-segregation" on campus. Other examples include segregated dorms and freshmen orientations. Americans should care about the implications, the report states, because "neo-segregation is the breeding ground of racial conflict in American society."
"Neo-segregation inculcates in young people the readiness to cling to a victim identity at the expense of becoming a positive member of the larger community," the report states. "No doubt a large portion of the racial grievance politics we see in society at large these days is the carefully nurtured product of campus neo-segregation."
The Undefeated reported last year that some segregated commencements date back many years: "Syracuse University hosted its first black graduation ceremony in 2004, the University of Southern California initiated its in 1999 and Stanford established its black graduation ceremony more than 40 years ago."
When asked by The College Fix for comment on why the university holds a black graduation commencement, Sheri Ledbetter, a spokesperson for UC Irvine, said the university is a "campus that celebrates diversity."
"At these special and cultural celebrations, students and their families participate in the celebrations. The commencement ceremonies have limitations on the number of invited guests, while these cultural celebrations typically include more family and community members," Ledbetter told The College Fix. "These are more informal and oftentimes incorporate cultural traditions."
MORE: I wouldn't participate in a blacks-only commencement. No grad should.
MORE: Nearly 200 universities facilitate segregation among students of color
IMAGE: Speaking Pix / Shutterstock
Like The College Fix on Facebook / Follow us on Twitter