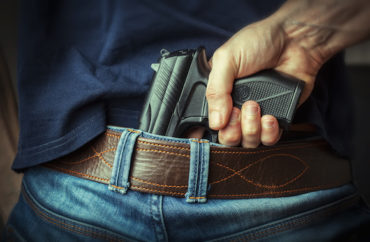 Courses are popular and have met with no controversy
Several community colleges across the country are offering concealed carry training courses on campus, giving students the opportunity to hone their gun skills and work toward obtaining concealed carry permits for themselves.
The website of Lake Land College, located in Mattoon, Illinois, says its "Introduction to Concealed Carry" course is "designed to educate the student about firearms best suited for personal defense, how to carry the firearm safely, and how to deploy and use the firearm efficiently in the context of a Dynamic Critical Incident." The class, which costs $150, also covers laws and regulations governing concealed carry.
The course "satisfies the 16-hour training requirement to be eligible to obtain an Illinois Concealed Carry permit," the listing states.
Campus spokeswoman Kelly Allee told The College Fix that the school had several requests to offer a concealed carry course as well as "other self-defense and safety courses."
"These courses have been offered for three years and they are popular with students because the class size is small (4-6 per session) and the course is affordable. The instructor is knowledgeable and is able to give students personalized attention and advice during and after the course," she said. Students are required to bring their own concealable pistol, eye and ear protection, holster and ammunition, according to the course listing, which says the class takes place on the weekend.
Course has been offered for six years
Similar classes are offered at Lenoir Community College in Kinston, North Carolina. The school's website stipulates that students are required to bring either a semiautomatic handgun or a revolver, along with a minimum of 40 rounds of ammunition.
Spokesman Richy Huneycutt said the school develops classes "out of the community and students interest and needs."
"There are so many private businesses and local law enforcement agencies who offer Carry Conceal Classes now that the College offers them as we have interest," he said. He added that the school has been offering concealed carry courses since 2014.
Huneycutt said that upon completion of the course, students go to local law enforcement agencies to do a background check and obtain their concealed carry license.
When asked, Huneycutt told The Fix that the college "[has] had no controversy surrounding the classes." Allee told The Fix that Lake Land College has also seen no controversy regarding their concealed carry course.
Some classes forbid students from bringing guns to the class
Representatives of the College of Dupage and Triton College did not respond to The College Fix's queries last week; both of those community colleges also offer concealed carry.
Triton's course costs $199 and promises to teach students handgun safety, cleaning and maintenance, state and federal laws related to ownership, storage and transportation of guns, and the "basic principles of marksmanship." Classes are conducted both on Triton's campus and at a local firing range.
The College of Dupage notes on its website that to attend their concealed carry class, students "must be 21 or over, currently possess a valid Firearm Owner Identification card, a valid Illinois state I.D. or Driver's License, be allowed by state and federal law to legally possess a firearm and be physically capable of safely and effectively operating a firearm."
The training is actually offered through the college's Homeland Security Training Institute. The school says the class is a "two-day, 18-hour course" using a "state-of-the-art concealed carry firearm simulator." Students are forbidden from bringing their personal firearms to the class.
MORE: Following campus carry, universities report no increase in violence on their campuses
MORE: My professor canceled office hours because my school allows concealed carry
IMAGE: Maksym Dykha / Shutterstock.com
Like The College Fix on Facebook / Follow us on Twitter