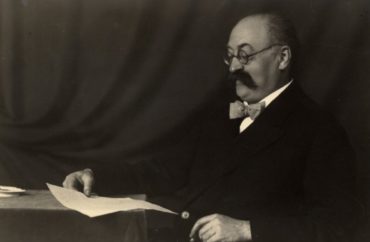 'Almost all' his colleagues defamed him, too
Timothy Jackson followed through on his threat to sue the University of North Texas for investigating him in response to his defense of a 19th century composer.
The "distinguished university research professor" accused the Board of Regents of First Amendment retaliation in response to Jackson's criticism of a black peer who called Heinrich Schenker (above) "an ardent racist and German nationalist."
He's also claiming defamation by a graduate student and 17 colleagues in the Division of Music History, Theory, and Ethnomusicology. They promoted claims that he engaged in "particularly racist" actions and "platform[ed] … racist sentiments" in the Journal of Schenkerian Studies, a UNT-produced publication that Jackson co-founded.
The journal published a "symposium" issue in response to work by Hunter College Prof. Philip Ewell that claimed Schenker's ideas exist "to benefit members of the dominant white race of music theory." Most of it criticized Ewell's arguments, with Jackson saying his black peer's claims were part of a "much broader current of Black anti-semitism." (Schenker was Jewish.)
MORE: Jackson threatens to sue UNT for First Amendment retaliation
The taxpayer-funded university's investigation concluded the "editorial and review practices" at the journal were problematic. MHTE Chair Benjamin Brand (left) used the report "as an excuse to exclude Professor Jackson from any continued involvement with the journal," according to Jackson's Jan. 14 lawsuit.
Texas media do not appear to have noticed the week-old lawsuit. It was highlighted Thursday by the Foundation for Individual Rights in Education, which warned UNT last summer that the investigation itself was unconstitutional, regardless of whether it sanctioned Jackson.
The civil liberties organization distanced itself from Jackson's defamation claims, however, noting its recent concerns that defamation lawsuits are "generally unwise and can often chill or target core protected speech."
'Cherry-picking short phrases' like 'today's political attack ads'
Jackson argues his criticism of Ewell's argument was substantive, and that the symposium issue was not a smear on the Hunter College scholar. Unidentified graduate students later claimed the issue fomented racist attacked on Ewell.
"Many (though not all) of these symposium papers were highly critical of Ewell's attacks on Schenker," with Jackson's paper accusing him of "quoting Schenker out [of] context and refusing even to mention" the composer was Jewish and "lost many family members in the Holocaust."
The lawsuit explains at length how Ewell's arguments – that "Schenkerian theory is an institutionalized racial structure" and "crucial part of music theory's white racial frame" – ignore Schenker's actual life as an assimilated Jew in Austria and his evolution on matters of race.
He "deeply loved German culture" but "was never considered a proper Austrian (let alone German)," suffering "pervasive anti-Semitism" even from fellow musicians. Schenker even preferred "some forms of music traditionally associated with black American culture" to the work of German composers. He died three years before the Nazis annexed Austria.
Yet Ewell engaged in "cherry-picking short phrases" from Schenker's writing to misrepresent them, in the same way that "today's political attack ads" selectively edit video of their opponents.
MORE: Suit says UNT fired prof for calling microaggressions handout 'garbage'
Jackson (right) questioned whether it was even accurate for Ewell to lump a white-skinned Jew into a "white frame," calling this view "naïve, unnuanced, and overly simplistic … at best." The Hunter College scholar might have done this because of black anti-Semitism, which is often "soft-pedaled, excused, ignored, and even applauded."
Blaming "racist Schenkerians" for the shortage of blacks in music theory misses the elephant in the room, according to Jackson: Few black children "grow up in homes where classical music is profoundly valued."
The journal's ordinary academic actions "incited an academic mob" that is demanding Jackson's firing and the shuttering of his journal and associated Center for Schenkerian Studies. They accuse Jackson of racism simply for defending a composer and criticizing a black peer, the suit claims.
The Society for Music Theory, whose leadership are faculty at the University of Michigan, condemned the "anti-Black statements and personal ad hominem attacks" in an open letter just five days after the symposium was published.
It claimed the issue didn't meet "ethical, professional, and scholarly standards" and some contributions violated its "harassment and ethics" policies. The letter claimed the journal didn't let Ewell respond to criticisms of his work, even though it had invited him to submit his own paper: "Such behaviors are silencing, designed to exclude and to replicate a culture of whiteness."
The UNT graduate student letter, whose signatories didn't identify themselves, soon followed. They demanded the university "dissolve" the journal, "[h]old accountable" those who run it, and potentially fire Jackson specifically for "past and present" behaviors that are "particularly racist and unacceptable."
Removed from journal a week before his plan was due
Music theory doctoral student Rachel Gain "published this defamatory attack" from the graduate student letter in a tweet thread, which is now hidden in her private account. Four days later, "almost all" Jackson's MHTE colleagues "endorsed the contents" of the letter.
They said the symposium was "replete with racial stereotyping and tropes," and that its "epistemic center … lies in a racist discourse that has no place in any publication, especially an academic journal." Criticizing a black scholar's work is "an example of the broader system of oppression built into the academic and legal institutions in which our disciplines exist."
Without echoing demands to fire Jackson, his colleagues called for "[r]esponsible parties" to be "held appropriately accountable."
The university "joined the witch hunt" the same day as the faculty open letter, with an investigation and an "ad hoc review panel" to scrutinize the journal's decision to publish the symposium, all in retaliation against Jackson's First Amendment rights.
The ad hoc panel's Nov. 30 report found that the symposium issue did not meet "standards of best practice in scholarly publication," and Provost Jennifer Cowley told Jackson the same day to "develop a plan" in response to the report.
MORE: Princeton students slurred as racist for defending academic freedom
A week before Jackson's deadline to submit the plan to Dean John Richmond and Brand, the chair told him he was being removed from the journal and the university was rescinding resources for its associated center. Jackson cannot "remain involved in the day-to-day operations of the journal, and its editorial process in particular," given the ad hoc report's findings, Brand wrote.
Jackson is seeking an injunction against "any adverse action" against him in response to the symposium and his criticisms of Ewell's (left) work. He claims the faculty who endorsed the anonymous student letter, and provided a link to it, are thus "legally responsible for their slander."
Even if they didn't know the statements in the letter were false, the faculty "acted with negligence in publishing these false accusations of racism."
Jackson deserves "nominal, compensatory, and punitive" damages for the "ostracism, emotional distress, harm to his professional reputation, and discipline from his university."
While the lawsuit doesn't outline these claims in detail, Jackson's lawyer Michael Allen told FIRE that the university "made up the procedures and rules" for its "inquisition" against Jackson "as it went along." It has "suppressed" the viewpoints of scholars whose work was published in the symposium, whose "only sin was to defend classical music from spurious charges of 'racism' and 'white supremacy.'"
MORE: UNT president caught trying to get Donald Trump Jr. disinvited from event
IMAGE: Schenker Documents Online, University of North Texas, Hunter College
Like The College Fix on Facebook / Follow us on Twitter