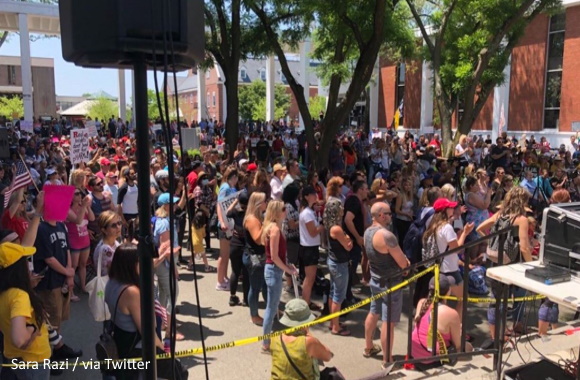 GOP state lawmakers in New Jersey propose legislation to thwart mandate 
Hundreds of students and others converged at Rutgers University recently to take part in a medical freedom rally in protest of the institution's decision to require the COVID vaccine for students returning to campus this fall.
Participants chanted "my body, my choice," waved American flags, and held signs demanding their "freedom" at the May 21 event.
My body my choice. pic.twitter.com/H6CcQrtGi3

— Sara Razi (@Sara_Razi29) May 21, 2021
The Epoch Times reports the event was organized by Turning Point USA, Young Americans for Liberty, and NJ Stands Up, a medical freedom advocacy group.
Several state lawmakers also attended the rally in support.
The Times reports that a proposal by GOP New Jersey state Assemblywoman Serena DiMaso would "prohibit colleges and universities that receive state or local funding from mandating COVID-19 vaccines or discriminating against students who have not received the vaccine" and that New Jersey Assemblyman Gerry Scharfenberger, a Republican, has introduced a bill that would prohibit discrimination against those who don't disclose their vaccine status.
Scharfenberger, who spoke at the rally, called for the crowd to fight for its freedom or "you will never get it back."
"Allowing them to mandate vaccines to get into Rutgers University is a slippery slope. They're going to keep moving the goalposts until they dictate every aspect of your life," Scharfenberger said, according to the Times.
Rutgers University announced in March that it would require students to receive a COVID-19 vaccine before returning to campus with caveats that students may request an exemption for medical or religious reasons and students enrolled in fully remote degree programs are also exempt. Faculty and staff are exempt from the requirement and are only "encouraged" to get the vaccine.
One of the main student co-organizers of the medical freedom rally, 21-year-old Rutgers political science major Sara Razi, told the Burlington County Times the rally is not against the vaccine — it's against the vaccine mandate.
"We believe it should be a personal and private choice — not the government, not the state," she said. "No one should be making this decision for you — except yourself."
— Sara Razi (@Sara_Razi29) May 21, 2021
During the rally, the group NJ Stands Up provided attendees with medical, legal, legislative and health freedom information and resources designed to arm people "with the tools, information, and resources" needed to "push back against mandates in your school," according to its website.
The Association of American Physicians and Surgeons has published an open letter calling on universities to not mandate students take the COVID vaccine.
The physicians point out young adults "are a healthy and immunologically competent and vibrant group that is at extraordinary low risk for COVID-19 morbidity and mortality."
MORE: University of Georgia System rejects COVID vaccine mandates for its 26 campuses
IMAGE: Twitter screenshot
Like The College Fix on Facebook / Follow us on Twitter