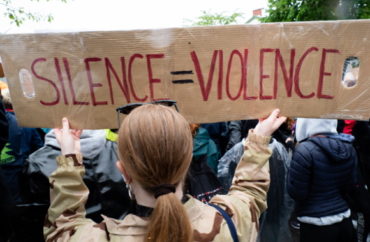 People allegedly 'against hate' become the deepest haters of all 
As those who watch today's campuses know, these are challenging times for, dare I say it, sane persons.
The university has become almost unrecognizable. In place of reasoned deliberation we find feverish activism. In place of a neutral forum for civil debate in the shared pursuit of truth we find the enforcement of official orthodoxies.
Disagreement — once the driving force for intellectual advancement — now is anathema.
If you dare to differ from some particular orthodoxy it's because you don't understand or enjoy privileges that blind you to the experiences of others. Or, worse, it's because you, in fact, are actively defending those privileges.
You are, in other words, a racist, or a homophobe, or a transphobe, or an Islamophobe. In short, a hater—and hatred has no place on campus.
All of this culminates in "cancel culture" on campus: those who disagree with the orthodoxies must be eliminated from the table of discourse and in some cases from the campus altogether.
The College Fix recently published a Campus Cancel Culture Database that lists more than 650 successful cancelations over the last 10 years — and also more than 750 attempted cancelations in that time.
I assure you, there's more to come. The academy, or large swaths of it these days, looks a little like a madhouse. What are we supposed to do?
Partly to try something different, partly to maintain my own sanity, and partly to follow Saul Alinsky's famous advice "for radicals" that "ridicule is man's most potent weapon," I have written a novel.
Called "Nevergreen," it's an academic satire that targets campus cancel culture and the ideological excesses that generate it.
It tries to get across how unhinged such campaigns can be, and in particular just what it feels like to be the victim of a cancel campaign, which—as any such victim will tell you—is not very good.
My hope is that by magnifying by means of satire what really are the intellectual corruptions of the dominant campus climate, "Nevergreen" may serve as one additional weapon in the battle for academic freedom, integrity, and indeed sanity that we are badly losing. And of course, hopefully, it's entertaining. It won't accomplish much unless people enjoy reading it.
It tells the story of J., a physician in a midlife funk. A chance encounter gives him the opportunity of a lifetime, an invitation to speak at a small college. But when he arrives at the secluded island campus of Nevergreen College, he gets a lot more than he bargained for.
No one actually shows up for his talk, but that doesn't stop it from becoming the center of a firestorm of controversy—with potentially fatal consequences. "Nevergreen" aims to be a smart, fast, funny, and incisive portrait of today's liberal arts college scene, cancel culture, and more.
Happily it seems to have hit at least one of its marks.
"You'll laugh at the antics of students and the monumental irresponsibility of the administration at Nevergreen College. But it's really no laughing matter, as our once-liberal-arts colleges, our once-celebrated elite universities, are rapidly becoming Nevergreens," one reviewer offered. "This frightening satire is more truth than fiction."
Indeed, the book is a mix of "academic satire" and the genre of "horror."
In his subjective (if not always reliable) experience, the main character J. is being pursued, possibly, by a mob of mad, bloodthirsty murderers. But wait, do the students really want to, what, murder him? Of course not: "they're just kids"; they're excited to be activists about their causes; they're easily distractible; they're not really pursuing him.
But then again, maybe they kinda sorta are pursuing him, and kinda sorta do want to murder him. Something in them revels in the aggression, the power, of canceling, something in their ideology converts these people who are allegedly "against hate" into the deepest haters of all.
And for those who have experienced cancelation, who have been publicly slandered, vilified, threatened, made out to be the enemy of all that is virtuous, good, and true, can you blame them for feeling like they are being pursued, possibly, by a mob of mad, bloodthirsty murderers?
And just mightn't it be possible—if the present trajectory remains unchecked—that they are?
Andrew Pessin is professor of philosophy at Connecticut College and the campus bureau editor for the Algemeiner. In a previous incarnation, he portrayed "The Genius" on the Late Show with David Letterman. More information about "Nevergreen" and links to purchase are available here.
ALERT: Check out our Campus Cancel Culture Database
IMAGE: Ryan Rodrick Beiler / Shutterstock
Like The College Fix on Facebook / Follow us on Twitter