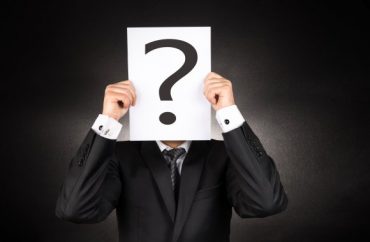 After a bit of an uproar over a progressive speaker's appearance at the Baylor University Chapel, it's been revealed that she did not offer a prayer to a "Mother Mystery."
Last week, Kaitlin Curtice gave a speech at three separate services at the chapel in which she, among other things, urged the audience to "fight against systems of oppression, systems like toxic patriarchy and capitalist greed that give no care to the land."
She also told them "decolonization must be a goal."
The Baylor student newspaper The Lariat and station KWTX originally had reported that Curtice offered the "Mother Mystery" prayer. In response, the Young Conservatives of Texas at Baylor chided the university for Curtice's invitation, stating it had "allowed a speaker with pagan sympathies to mislead students."
However, Baylor Vice President for Marketing & Communications Jason Cook contacted The Fix on Monday stating the university had reviewed Curtice's speeches from all three Chapel services, and that no prayer to "Mother Mystery" can be heard.
Although Cook noted it is "customary practice" to post only the second chapel service online, he provided The Fix with links to the first and third services as well.
The verdict? Ms. Curtice began and ended all three of her speeches with a prayer/poem to "Oh, Mystery."
In response to the video evidence, the YCT noted on Twitter that "If it's revealed that we (and many students) misheard the prayer to Mother Mystery, the only thing that will be proven is that the University is missing the point."
In its Twitter thread, the YCT points out that Curtice has a "track record of using pagan names for gods interchangeably with the Christian God":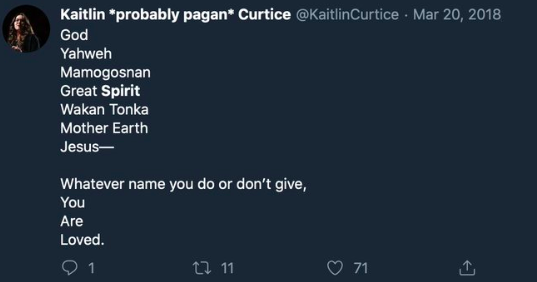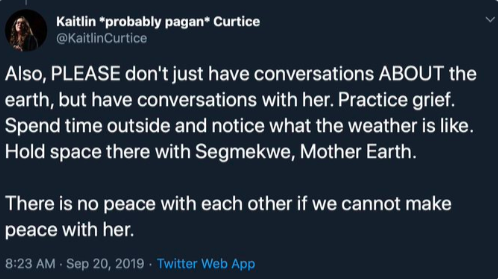 In a Monday Lariat op-ed, Baylor junior Emily Cousins argues that Curtice praying to "Mystery" is not at all controversial as "God has been referred to as a great mystery for a long time":
There is a common Latin text called O Magnum Mysterium that composers have set to music for centuries that refers to the birth of Christ as a great mystery.

This is the English translation:
O great mystery and wonderful sacrament,
That beasts should see the new-born Lord
Lying in a manger
The new-born we have seen and a chorus
of angels praising God.
Alleluia.

God is a great mystery. We will probably never fully understand God, even when we enter the kingdom of heaven. His power and omnipotent presence is not something we as humans can fully fathom.
Cousins points out that Curtice didn't "force her prayer on anyone." As the videos show, Curtice states before her prayer that the attendees could consider it a "poem" if they wished. In addition, the man who introduces Curtice informs the audience that if anyone objected to Curtice's words, they could move to another section of the chapel and still get credit for attending.
MORE: Christian university invites speaker who prays to … 'Mother Mystery'?
IMAGE: Shutterstock.com
Like The College Fix on Facebook / Follow us on Twitter