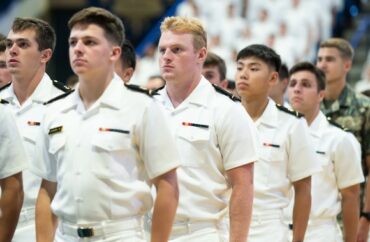 New hire will receive government service job benefits
The United States Naval Academy is reviewing applications for a scholar in "Gender and Sexuality Studies" to teach in its English department.
"We welcome subspecialties in disability studies, film, and multiethnic or global Anglophone literature" for an application review that began earlier this month, according to a notice posted to the academy's human resources website.
The person hired for the tenure-track, assistant professor role to begin in July 2024 will design his or own syllabus and select which texts to teach, according to the website job description.
Like other full-time faculty at the Naval Academy, the new hire will receive benefits of a government service job.
Candidates must submit a cover letter, curriculum and diversity statement. Applicants need not be service members.
Research interests of current Naval Academy English professors include "Victorian sanitary reform," "graphic novels," "post-colonialism," "ecocriticism," "gender and sexuality" and "usable philosophy," according to the department website.
All U.S. military academies have come under fire recently for their diversity policies, currently exempt from the ban on affirmative action activated by two landmark June Supreme Court decisions in June.
In September, Students for Fair Admissions, the membership group that successfully brought the case against affirmative action policies to the Supreme Court, filed a claim against the U.S. Military Academy at West Point for its race-influenced admissions, The College Fix reported at the time.
The Fix reported Sept. 1 that SFFA had turned its attention to all American military academies.
The group is collecting experiences of students who applied to the Air Force, Army and Navy academies on the website WestPointNotFair.org.
"West Point, as well as the Naval Academy and the Air Force Academy, uses an applicant's race and ethnicity as a factor in admissions, the group wrote on the site. "That's unfair and unconstitutional."
"We are committed to ending these practices at America's military service academies," it stated.
MORE: New College of Florida's only full-time gender studies professor quits 
IMAGE: United States Naval Academy/Facebook
Like The College Fix on Facebook / Follow us on Twitter