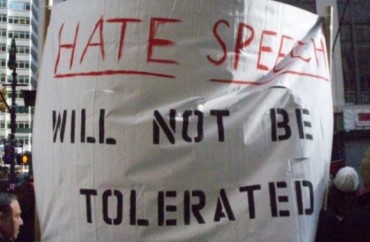 The North Carolina State Student Government held a meeting last Thursday where it offered ways to help improve the "racial climate" on campus and to "facilitate a safe learning environment."
Unfortunately, at least one of their proposals would directly conflict with the First Amendment to the Constitution.
Hosted by two members of the SG's Diversity Outreach Department, three proposals to attain "cultural competency" were discussed. All are fairly typical of college diversity efforts.
The first, cultural competency training, would have three levels, according to the Technician: The basic level is a summer online diversity training required for all incoming students; step two is "incorporating diversity training into existing classes";  and finally, implementation of training for student organizations with an "in-person student leader."
The third proposal is a "restructuring" of the university's Bias Incident Response Team in part due to its lack of visibility "to the entirety of NC State's campus."
The most problematic idea, the second, is the proposed solution(s) to "hate speech":
According to the slideshow shown at the town hall, the first amendment of the Student Body Constitution does not currently allow for there to be major changes at a publicly funded university. However, student government wants to change this precedent and foster a better community where students and faculty are accountable for their words and actions.

In order to create this community, the Diversity Outreach Department wants to amend the Student Code of Conduct and include specific language that does not allow for hate speech. In addition, they want to incorporate repercussions for hate speech and for other acts of bigotry.

For example, a student will get suspended from the university if they are issued three warnings for underage drinking. The department said their plans were to implement similar repercussions if a student shows inappropriate and or hateful behavior.
An examination of NC State's Student Body Constitution doesn't show a "first amendment," it only provides the manner by which amendments are passed. An email to the Technician Editor-in-Chief requesting clarification went unanswered.
Perhaps the sentence actually refers to the US Constitution as that would make sense: There can't be "major changes" to free speech provisions at a publicly funded institution. Therein lies the problem with the Student Government proposal: There is no hate speech exception to the First Amendment, and NC State officials cannot legally punish such.
Furthermore, how is "inappropriate" and "hateful" behavior defined? Knowing your typical diversity-obsessed academics as we do, such could be someone looking at another person the "wrong" way.
MORE: One-third of college students say violence justified to stop 'hate speech'
MORE: Charges of 'hate speech' threatened if student protester opinions aren't 'civil'
IMAGE: Ashley Marinaccio / Flickr.com
Like The College Fix on Facebook / Follow us on Twitter