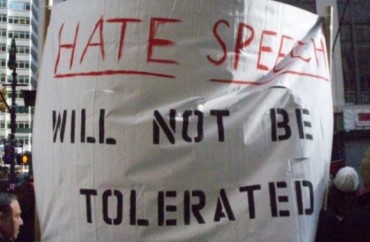 A new survey regarding campus free speech reveals some very disturbing attitudes among contemporary students.
Eight hundred students' answers in the McLaughlin & Associates online poll (on behalf of Yale's William F. Buckley, Jr. Program) revealed that over half the respondents said their professors often "used class time to express their own social or political beliefs that are completely unrelated to the subject of the course." A similar percentage said they "felt intimidated" offering up opinions in class which differed from their professors.
An even greater number of students feared expressing themselves due to the possibility of viewpoint conflicts with peers, according to The Wall Street Journal.
Most alarming, however, is that a third of respondents agreed with the statement "If someone is using hate speech or making racially charged comments, physical violence can be justified to prevent this person from espousing their hateful views."
[T]here's at least a mixed message in the latest survey results. On the downside, the fact that so many students are afraid of disagreeing with their peers does not suggest a healthy intellectual atmosphere even outside the classroom. There's more disappointing news in the answers to other survey questions. For example, 59% of respondents agreed with this statement:

"My college or university should forbid people from speaking on campus who have a history of engaging in hate speech." …

An optimist desperately searching for a silver lining would perhaps note that 60% of respondents did not agree that physical violence is justified to silence people speaking what someone has defined as "hate speech" or "racially charged" comments. But the fact that a third of college students at least theoretically endorse violence as a response to offensive speech underlines the threat to free expression on American campuses.

Perhaps more encouraging are the responses to this question:

"Generally speaking, do you think the First Amendment, which deals with freedom of speech, is an outdated amendment that can no longer be applied in today's society and should be changed or an important amendment that still needs to be followed and respected in today's society?"

A full 79% of respondents opted for respecting the First Amendment, while 17% backed a rewrite.
But in keeping with that "mixed message" theme, the seemingly overwhelming respect for the First Amendment is tempered with almost 40% in favor of campus speech codes for students and faculty.
MORE: Campus mobs shut down free speech
MORE: Free speech on campus has become weaponized
IMAGE: Ashley Marinaccio/Flickr.com
Like The College Fix on Facebook / Follow us on Twitter