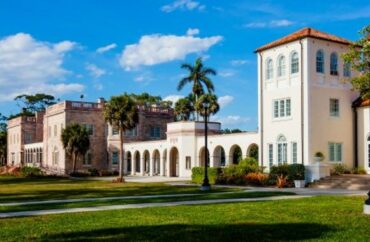 New College of Florida 'rebalancing' heavily female campus 
Eight months after Gov. Ron DeSantis of Florida fired and replaced more than half of New College of Florida's board of trustees, his appointees are leading an effort to "rebalance" the ratio of male to female students at the school.
As of 2022, two-thirds of New College of Florida's student body was composed of women. This year, more than half of the incoming class is made up of men, largely due to the recruitment of student athletes.
Christopher Rufo, a conservative activist who was appointed by DeSantis to the university's board of trustees, recently defended the implementation of policies that some critics have labeled "affirmative action for men."
"This is a wildly out-of-balance student population, and it caused all sorts of cultural problems," Rufo told The New York Times in August, discussing the overwhelmingly female student body at New College in an article headlined "At a College Targeted by DeSantis, Gender Studies Is Out, Jocks Are In."
Rufo added New College has become "what many have called a social justice ghetto," which the board is hoping to change.
The Fix reached out to Rufo for this story, but has not yet heard back.
The Sarasota Herald-Tribune reported in July that increased enrollment of men at New College of Florida "came with a decrease in overall grade point average and test scores," which was partially attributed to the college significantly expanding athletic programs.
"The average GPA of enrolled freshmen and transfers is 3.7 this year compared to 3.96 last year, records showed. This year's average ACT score was 24, down from 27 last year. The average SAT score was 1147, a drop from 1239 the year prior," the Herald-Tribune reported.
"Much of the drop in average [standardized test] scores can be attributed to incoming student-athletes who, despite scoring worse on average, have earned a disproportionate number of the school's $10,000-per-year merit-based scholarships," it noted.
When contacted by The Fix, New College of Florida spokesman Nathan March said the college's admissions standards were not decreasing and called allegations of sex-based affirmative action "absurd."
"Just one look at the combination of returning and record-breaking newly enrolled students demonstrates that our campus is a cross-section of America. The student body is the most diverse it has been in school history," March said.
"There are many factors that play into evaluating that which a student is projected to contribute to the college community," he added.
An effort to build an athletic program from the ground up by the school's Interim President Richard Corcoran has "largely driven" the increase, USA Today reported.
In January of 2023, DeSantis reshaped New College of Florida's board of trustees by making six new appointments to the board, including Rufo, a conservative activist.
That same month, the board fired New College's president and replaced her with Corcoran, the former commissioner of the Florida Department of Education.
James Uthmeier, DeSantis's former chief of staff who now serves as the manager of the governor's 2024 presidential campaign, said the actions taken by the governor were designed to reshape New College into an institution that prioritized classical liberal education.
"It is our hope that New College of Florida will become Florida's classical college, more along the lines of a Hillsdale of the South," Uthmeier told the Daily Caller in January.
New College of Florida's only full-time gender studies professor resigned this month following a move by Rufo to eliminate the program altogether.
DeSantis signed a law in May to defund DEI departments at Florida's public colleges and universities after a state investigation found schools were spending millions of taxpayer dollars on DEI-related initiatives.
MORE: New College enrolls more students, looks to cut gender studies
IMAGE: U.S. News and World Report
Like The College Fix on Facebook / Follow us on Twitter