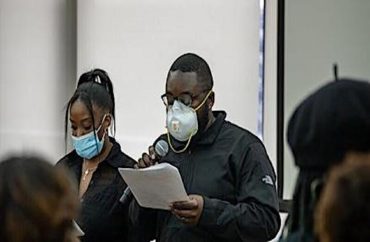 A new black student group at Southern Illinois University Edwardsville has alleged the school "exploits" its black students and issued a set of demands, which include "not be denied access to any information deemed critical" to its interests.
The so-called "Black Unity Council" made its concerns and demands known at a February 23 town hall meeting, The Alestle reports. BUC co-founder Mahlik Good told the audience the SIUE administration "uses" black students for marketing purposes, but doesn't do enough to keep them at the school.
During his presentation, Good chastised Vice Chancellor for Student Affairs Jeffrey Waple for not personally recognizing him as one of the students who work in his office, and accused him of being in "fear" when the Black Unity Council entered the meeting.
In its demand document, the BUC includes a "Timeline of events at SIUE" (13 bullet points in total) dating back to 2010. The oldest incident states several white SIUE Dental School students had dressed up in blackface for a Halloween party.
Other incidents include:
— Three black students skateboarding on campus in late 2013 encountered several white men in a passing car who yelled out racial slurs. (It doesn't indicate whether the white men were SIUE students.)
— "Countless" instances of racism which allegedly occurred in response to the 2016 presidential election.
— A SIUE official and dean respectively spoke out "in a troubling way" and "condescendingly" to black students back in 2018.
Several instances of racist vandalism also are mentioned (but, unsurprisingly, not this one).
MORE: U. Oklahoma 'Black Emergency Response Team' issues new set of demands
The BUC demands virtually unfettered access to campus bias incident reports or "any information deemed critical" to its interests. In addition, the group states any university communication "will be vetted by the BUC to ensure empathy, sensitivity and tact in any communication regarding the loss of Black lives as well as the Black experience at SIUE."
The BUC also wants "accountability for the subjective handling of issues involving Black members of the SIUE community by SIUE Police and SIUE Administration for their lack of transparency, passive aggression, silence, and disregard to the valid concerns."
Further demands include increased campus safety measures, "complete university support" for campus DEI (diversity, equity, inclusion) measures, creation of (and support for) a Black Culture Center, "mandatory cultural competence and sensitivity training for all academic advisors," mandatory anti-racist and DEI training "for all staff, faculty, administrators, contractors, and students," and increased funding for "departments, centers, and faculty that offer social justice, critical race, queer, ethnic, and gender studies classes and workshops."
The Black Unity Council set a March 4 at 4:30pm deadline for its demands to be met. If the university's response is deemed "unsatisfactory" by the BUC, or if it's not received by the deadline, the BUC "will pursue additional courses of action."
According to the Alestle report, former chancellor Randy Pembrook promised a response by the deadline. In a March 1 editorial, The Alestle came out in support of the BUC's demands.
As noted by The College Fix last month, SIUE black activists had demanded the expulsion of two white students when it was believed they were responsible for racist graffiti targeting a black peer. But they went silent when it was revealed a black student actually was the culprit. A Change.org petition titled "Expel All Racist [sic] Involved" had been set up, but then closed down after the truth came out.
Read the Alestle article and full BUC demand statement.
MORE: Demands remain to fire Africana Studies professor for 'traumatizing Black students' with Tupac song title
IMAGE: The Alestle / Twitter screencap
Like The College Fix on Facebook / Follow us on Twitter