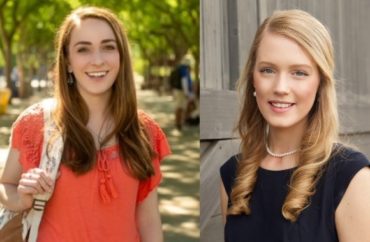 UPDATED
Two recent college graduates help others facing First Amendment violations
Two Alliance Defending Freedom staff members fought for their free speech rights while in college. Now they work supporting other students, individuals and organizations who want to defend their own First Amendment protections.
Bernadette Tasy successfully sued Fresno State University Professor Gregory Thatcher in 2017 when he erased the pro-life messages that her Students for Life group chalked on campus. Now she works as a media relations specialist for the public interest nonprofit.
Ellie Wittman successfully sued Miami University in 2018 when it tried to force her Students for Life group to post trigger warning signs outside of her group's Cemetery of the Innocents display. The display is often used by pro-life groups to symbolize lives lost to abortion.
"ADF really provided a platform for me to tell my story," Tasy told The College Fix in a Zoom interview. "Within hours of the (ADF video release), they showed students they were not alone when attempting to spread the pro-life message." Tasy said that ADF helped her grow in her faith and her pro-life convictions.
"They really opened up new opportunities for me. They really strengthened my faith in God," Tasy said.
MORE: New Ohio law bans free speech zones
Wittman also works in media relations. She works at the nonprofit's Center for Academic Freedom out of the D.C. office. She said she would tell other students to turn to her employer if they faced similar problems.
"A good friend at the school is constantly facing pushback, I tell her to stay strong and not to let the university violate your rights. ADF is there for them if they have questions," Wittman said in the same Zoom interview.
Tasy expressed similar sentiments. "With all the hardships that [pro-life] students can encounter, it's easy to get discouraged but it's important to remember our message is heard," Tasy said. "It's important we are present."
Both expressed thankfulness for the opportunity to work for the group that helped them.
"I have enjoyed interacting with the clients and the attorneys and everyone else that makes ADF successful," Tasy said.
"Bernadette and I are clients-turned-caseworkers," Wittman said. "Everyone is here for the mission, everyone is here to help people defend their faith." Both Wittman and Tasy are Catholic.
"It's so inspiring seeing our clients, so staunch in our faith," Wittman said.
MORE: 'You don't need college to succeed' says rising star national reporter
Editor's note: I assisted Ellie in opposing Miami University's trigger warning rule while a communications director for Students for Life of America.
The article has been updated to clarify that Bernadette Tasy sued Professor Thatcher, not Fresno State.
IMAGE: Alliance Defending Freedom
Like The College Fix on Facebook / Follow us on Twitter