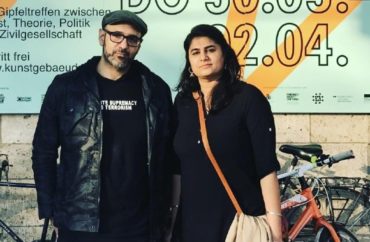 University laid off more than 200 employees this year despite CARES Act funds
Nitasha Dhillon is a co-founder of Decolonize This Place, along with New York University professor Amin Husain (feature image).
The group is known for occupying museums to protest their alleged colonialism, but also organized the mass vandalism of the New York City subway in January and encouraged vandals to "fuck shit up." They followed through, causing $100,000 in damage.
Once (and perhaps still) a doctoral candidate at the State University of New York-Buffalo, Dhillon is now an assistant professor of communications at Adelphi University.
It's not clear when the Long Island university hired Dhillon. A cached version of her directory page is dated Dec. 10. A spokesperson confirmed to The College Fix that the tenure-track position would start Jan. 1, but wasn't sure when the hire was made, except that "it was announced this fall," probably in a faculty meeting.
A tipster told The Fix Sept. 15 that Adelphi had hired Dhillon in a tenure-track position to start in the spring semester, but declined to provide documentation or explain how the tipster learned about her hire. The Fix could find no mention of her hire at the time.
The streets are ours. The trains our ours. The walls are ours. This moment is ours. How will you and your crew build and fuck shit up for #FTP3 on #J31 (THIS FRIDAY)? Issa mothafuckin' movement. pic.twitter.com/CoEjRSvmDX

— DecolonizeThisPlace (@decolonize_this) January 28, 2020
MORE: Museums need to 'reconsider' European art because … white supremacy
"Many staffers are outraged about" Dhillon's hire in the context of Adelphi's pandemic-related layoffs of 160 part-time employees this spring despite receiving $5.2 million in CARES Act funds, the person continued. Adelphi was on the verge of announcing more layoffs, the tipster claimed, which the university announced two days later – this time including full-time employees.
The person contacted The Fix again Monday night to point to Adelphi's directory listing for Dhillon, but continues to refuse to answer questions from September, including a request for the identity of the staffers who are "outraged" by Dhillon's hiring so The Fix could talk to them.
Dhillon's website does not mention her Adelphi position but says she is still "a Ph.D. candidate at Department of Media Study – University of Buffalo in New York."
Dhillon and Decolonize This Place were featured in an October feature in Jacobin, the radical-left political magazine, on protests against museums for their investments, labor practices and "art-washing."
Husain, the group's other co-founder, remains listed as part-time faculty at NYU. His bio mentions the parent organization of Decolonize This Place, known as MTL, but not DTP itself.
DTP's Twitter account has not tweeted since July 10. Its last thread mentioned the "sexual harm" caused by an organizer at a related organization.
MORE: Meet the NYU professor who urged followers to 'f— sh– up' on NYC subway
IMAGE: University of Southern California
Like The College Fix on Facebook / Follow us on Twitter