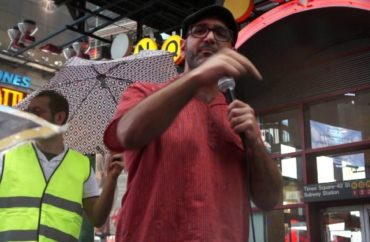 'Elements of a new strategy at work in the Counterinsurgency-Media Complex'
Antifa and other radical activists created chaos across New York City streets and subway stations on a massive scale at the end of January.
They ended up trending on Twitter, causing $100,000 worth of damage. Thirteen were arrested, and public officials characterized the activities as "criminal."
The group that helped Antifa organize these destructive demonstrations is a different kind of radical. Decolonize This Place was founded by academics, and they continue to lead it.
Nitasha Dhillon is a doctoral candidate in media study at the State University of New York-Buffalo, and Amin Husain (above) is an adjunct professor at NYU's Center for Experimental Humanities, among other teaching gigs. Neither Dhillon nor Husain responded to multiple phone and email inquiries from The College Fix in early March about their role in organizing the protest.
The New York Post first identified Husain last month as one the "masterminds" behind the vandalism of the subway system. The so-called J31 protests at the end of the month resulted in broken turnstiles, chained-open station entryways and "fuck the police" spraypainted on walls, among other damaged equipment.
Husain's comrades at the "radical publishing house" Verso Books complained earlier this month that Decolonize This Place had been targeted by "a coordinated campaign by the right-wing media and the NYPD."
MORE: Professor accused of bludgeoning pro-Trump protester arrested
This campaign wrote off the protests as coming from "the figurehead of a 'violent' Palestinian mastermind," the publisher wrote in a lengthy blog post:
Deliberately profiling its target as a Palestinian man and imputing to him a patently fabricated incitement to homicidal violence against police (more on which below), this story shows elements of a new strategy at work in the Counterinsurgency-Media Complex (CMC).
It showed an image of an anonymous letter addressed to Husain but sent to an NYU library, with comments scrawled on a printout of the Post article connecting Husain to the J31 protests.
The letter is crude but not overtly threatening. "Hey jack-off if you don't like America … Leave bye bye now," it reads, also describing Husain as an "ass wipe" and "numb nuts."
The author also superimposed an American flag and a sign reading "We love God country Israel and our police" on a photo of Husain at an earlier protest.
'How do you spell racist? NYPD'
Decolonize This Place rallied its Twitter followers in a video, urging them not to just to show up and protest on Jan. 31 but to "fuck shit up" as they do.
The group calls itself an "action-oriented movement on Indigenous struggle, Black liberation, Free Palestine, workers, de-gentrification, and dismantling patriarchy."
It advocates for the socialist restructuring of transit systems in the United States so that they do not charge fares to anyone, and for the removal of any police presence from every major transit system.
To get its message across, Decolonize This Place activists occupy subway stations and cars as well as buildings, and organize and support large-scale vandalism.
The agitators at J31 were at it early on the day of the protests, according to the Post. As early as 7 a.m. they had tagged walls and display screens at a 72nd Street station with graffiti.
As commuters were streaming in at the end of the work day, crowds took over Grand Central Station and then other subway stations after police kicked them out.
"Customers in the vicinity of Grand Central Terminal may experience increased crowding and street closures due to potential demonstrations," Metropolitan Transportation Authority officials advised riders on Twitter.
"Some of the [activists'] tactics that have been discussed threatened to put both riders and employees at risk for their safety," a spokesperson told the Post before the protests started.
Journalist Andy Ngo video of activists chanting "Fuck the police" and "How do you spell racist? NYPD." While NYPD used a motorcycle to block activists from taking over one station, they got into others and inserted glue and honey into card swipe terminals.
MORE: 'Antifa' professor resigns after losing class
The streets are ours. The trains our ours. The walls are ours. This moment is ours. How will you and your crew build and fuck shit up for #FTP3 on #J31 (THIS FRIDAY)? Issa mothafuckin' movement. pic.twitter.com/CoEjRSvmDX

— DecolonizeThisPlace (@decolonize_this) January 28, 2020
Four officers had to carry this masked protester, who refused to walk: pic.twitter.com/AE32l46CfP https://t.co/mNERpFpots

— Andy Ngo (@MrAndyNgo) January 31, 2020
Tell deli owners to stop carrying Sabra hummus
Husain teaches a graduate course on 'Race, Class and Ethnicity in the Media' at The New School, which bills itself as a "progressive university." His LinkedIn profile says he's also an adjunct professor at the Pratt Institute, where he teaches "Activism and Practice of Freedom," and New York University, where he teaches similar art classes.
He immigrated to the United States from Palestine and received a master-of-laws degree from Columbia University.
When he got to the United States, he said in a 2016 video filmed in Times Square, Husain learned that the American Dream "is a nightmare" and that this country lies "on occupied land" from indigenous people.
He encourages passers-by to join the anti-Israel boycott, divestment and sanction movement and emphasizes that the movement is not anti-Semitic, pointing to Jewish "brothers" and "sisters" who are "decoupling Judaism from Zionism."
Husain suggests in the video that there are no ethical limits on their activism: "Don't let anyone tell you that you need to renounce your brother or sister because they are fighting in a way that is unacceptable."
His most practical advice, though, seems to be encouraging business owners to reconsider the Israeli products that are on their shelves.
"Every deli you go to has Israeli products" such as hummus made by Sabra. "A conversation with a deli about why they have Sabra hummus is an important conversation to have."
The Fix asked Husain what he meant in the video by saying BDS activists are "jihadists" in every way, and how his activism informs his teaching or vice versa, but he did not respond.
MORE: Professor calls Antifa violence 'vital,' gives book profits to Antifa
Dhillon and Husain are no strangers to radical public demonstrations, either. Husain said in the 2016 video, filmed for the anti-Israel Al-Quds Day, that his earliest activism in Palestine involved "molotov cocktails" and "the like."
Decolonize This Place occupied the Whitney Museum of American Art on a regular basis between 2018 and 2019. They protested its vice chair Warren Kanders over his control in a company, Safariland, that manufactures tear gas and non-lethal weapons, prompting his resignation from the museum.
Dhillon and Husain were documented ejecting a YouTube personality, Elaad Eliahu, from an occupation they organized at the Whitney Art Museum in April 2019.
"You two have to leave, this is not for you guys, so you guys need to leave," they told Eliahu and his cameraman. Dhillon told the YouTuber he was being ejected because the museam is an "anti-racist space" under their occupation, and that "right wing supporters" were "not welcome." Husain added that "if you're a Zionist, you're a racist."
Husain led various chants against Eliahu and his cameraman and even accused them of getting "in our face," even though it was Husain who physically approached them.
Husain and Dhillon played an active role in a 2016 demonstration at the Museum of Natural History, according to The Guardian. Bearing signs that read "DECOLONIZE THIS MUSEUM," around 200 protesters called for the immediate removal of the "racist" statue depicting Theodore Roosevelt on horseback next to a Native American and an African American.
They called for the renaming of Columbus Day and for the museum to stop encouraging "racist tropes," in The Guardian's paraphrase. "I think that people are ignorant," Husain said. "It's a white supremacist society" and it's "super important" to rename the holiday after indigenous people.
MORE: University bans Antifa critic because he's a victim of Antifa
'Whether violence and destruction are correct' is not a partisan issue
This month Decolonize This Place has shown support for smaller-scale occupations of transit stations from other cities by retweeting videos of their demonstrations, where similar activist groups crowd subway platforms and demonstrate around fare-paying customers (example below).
The political director of College Democrats at NYU, Arman Becan, is not pleased with the style of protest embraced by the NYU professor Husain.
Washington Square News, the independent student newspaper, paraphrased him saying that "while their cause is justifiable, the aggressive tactics and rhetoric of [Decolonize This Place] can prevent a broad base of Democrats from participating." Becan said the group "denounce[s] their actions, their tactics of achieving" the College Democrats' goal of less transit money for policing.
NYU College Republicans leaders denounced Husain in a Fox News interview. Vice President Bobby Miller called for the professor's firing, while President Kristen Gourrier said Husain should have never been hired in the first place.
"I just don't think that it should be a partisan issue, whether violence and destruction are correct and belong in our political discourse in New York City or in America," Gourrier said. "I think that it should be a nonpartisan issue, whether or not violence is acceptable, and for me it's not."
The NYU administration downplayed the importance of Husain being on its payroll. "Our records reflect that he is one of the thousands of part-time faculty that are hired each year by schools and academic departments," a spokesperson told the Post last month.
against police violence. free public transit for all.

COPS OFF #CTA NOW #copsoffCTA pic.twitter.com/jjRMahrO6b

— B r e a k a w a y #5DemandsNot1Less (@Breakaway_chi) March 4, 2020
MORE: Dartmouth professor approves of 'doxxing' Covington Catholic students
IMAGE: FreeAlQudsNY/YouTube
Like The College Fix on Facebook / Follow us on Twitter