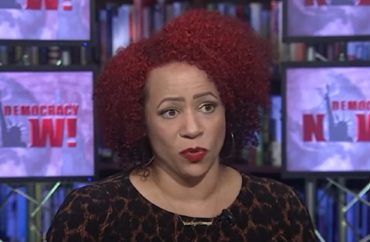 UNC will train 20 staff members to be paid diversity hiring consultants
Journalist and amateur historian Nikole Hannah-Jones has secured concessions from the University of North Carolina-Chapel Hill in exchange for her agreeing not to sue over a job offer she declined.
The Howard University professor first accepted a five-year, guaranteed contract with UNC with an option for tenure. Then she backtracked on that after reports came out of political pushback to her getting tenure. Then UNC offered her tenure, but she declined.
The public university, apparently having hired the worst negotiators, offered her less than $75,000 not to sue and promised to spend more on diversity trainings and special giveaways to racial minorities to stop a lawsuit.
"The University of North Carolina has confirmed the dollar amount of my settlement over my tenure in media reports, but my settlement was about much more than that," she tweeted on July 19. "I and my @NAACP_LDF team fought for concessions that wld support the work of faculty & students of color on campus."
"The settlement includes UNC committing to training 20 faculty and staff as (paid) search and selection process advisors to help diversify university hiring," she wrote.
We took these concessions directly from the asks of student and faculty groups and fought very hard for them. We believe that these concessions will help make my alma mater better and help it live up to its promise. As I said again and again: This was never about me. -30-

— Ida Bae Wells (@nhannahjones) July 19, 2022
She wrote further;
The settlement includes UNC posting a position by July 31 for an additional trauma-informed therapist within the Multicultural Health Program, and hiring a qualified applicant for this position.

And the settlement includes funds reserved in the Provost's office to pay for meeting expenses, events and symposia sponsored by the Carolina Black Caucus in the sum of $5,000 per year through June of 2025.
The university had no obligation to hire Hannah-Jones. The Board of Trustees is supposed to represent the financial and academic interests of the state's taxpayers and the university. If the board members decided that immediate tenure was not in the best interests of their constituents, it had every right to deny her tenure.
Hannah-Jones freely accepted a very generous five-year fixed term contract with an option for tenure.
As argued previously, she knew very well that she would not have tenure when she accepted the offer. Her supporters often mention that she won a MacArthur "Genius Grant," but if she is a genius, why did she accept a contract she did not want?
Furthermore, Hannah-Jones had claimed no one had ever been denied tenure before. But what she must mean is that no one put up by the Knight Foundation had been denied tenure — she obviously knows academics have previously been denied tenure at UNC.
UNC did not owe her a dime — and subsidizing leftist training and giving her money after she freely decided to decline a job offer will only encourage other future applicants to act the same way.
MORE: Professors tell New York Times to correct erroneous '1619 Project'
IMAGE: Democracy Now!/YouTube
Like The College Fix on Facebook / Follow us on Twitter