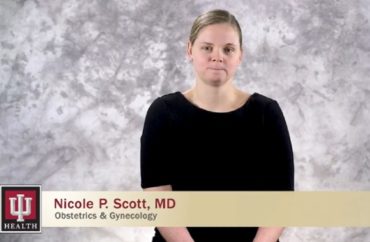 ANALYSIS: An Indiana University med school director attacked the state's pro-life law, but there's no clear evidence for her claim about its effects
There is no clear evidence to support the claim by an Indiana University medical school director that the "quality" of applicants would decrease due to the state's passage of a law restricting abortion, according to research by The College Fix.
The Fix sought to investigate Dr. Nicole Scott's claim that Senate Bill 1 would "affect the quality of candidates" that the university's med school would "receive." Dr. Scott directs the OB/GYN residency program for Indiana University School of Medicine.
"We are about a week away from entering our recruitment season, which we'll be reviewing over a thousand applications, interviewing 120 people for next year's match of 10 OB-GYNs to train here in the state of Indiana," Dr. Scott told a local news outlet last year. "We're concerned this is going to affect the quality of candidates that we receive and certainly the education we can provide."
Senate Bill 1 is currently pending in the state judicial system. It would restrict some abortions and close down abortion facilities.
Scott first made the statement last September and at the time did not respond to inquiries for clarification from The Fix sent to the medical school. Now nearly a year later, when the university has reviewed the applicants and sent out acceptance letters, the medical school would not respond to requests for evidence, nor could several medical groups attest to her claim.
The Fix reached out twice to IU media relations on May 9 and 16 via email and asked if it had any data to support Scott's claim, such as test scores, but it has yet to respond. Scott's email address is not publicly available.
MORE: Middlebury College profs, students set up 'feminist' mini-golf course
The American College of Obstetricians and Gynecologists declined to comment and referred The Fix to the National Resident Matching Program and the Association of American Medical Colleges. The National Resident Matching Program failed to respond, while the Association of American Medical Colleges stated it did not possess any relevant data.
Students for Life of America said it is skeptical of Scott's claims.
"The idea that young people spend years in school to dedicate themselves to ending life by abortion as their ambition represents abortion industry misinformation," Chief Media & Policy Strategist Hamrick wrote in an email to The Fix. "There is a reason that there are fewer abortionists all the time, a problem that the abortion industry has discussed."
Hamrick went on to say that the medical field's main goal should be to foster life, not end it.
"Only today, when government accountants try to put a price tag on life to end it cheaply[,] do we need to restate the obvious — helping people thrive and survive is the goal of healthcare, rather than killing people cheaply and easily," Hamrick wrote. "If your definition of healthcare is to kill people on purpose, you're doing it wrong."
Scott is not the only pro-abortion professor at Indiana University's medical school. Dr. Caitlin Bernard made the news when she went to the media and talked about committing an abortion on a 10-year-old rape victim, soon after the Supreme Court struck down Roe v. Wade and returned the issue back to the states.
Bernard, also an IU med school professor, was ordered by the state's medical licensing board to pay a $3,000 fine for breaking patient privacy laws. Undisclosed by Bernard at the time was that the 10-year-old girl's attacker was her mom's illegal immigrant boyfriend.
She appeared to cry during the hearing and accused Attorney General Todd Rokita of creating a "political stunt" by filing complaints against her, as The Fix previously reported.
"[T]he board dismissed two other allegations in the complaint, determining she did not violate laws requiring physicians to immediately report suspected child abuse and keep abreast of mandatory reporting and patient privacy laws," CNN reported.
MORE: No proof students are leaving red states because of pro-life laws
IMAGE: IU Health/YouTube
Like The College Fix on Facebook / Follow us on Twitter