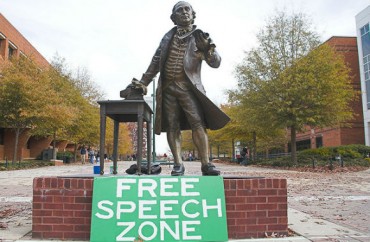 New law mandates sanctions for free speech disruptors, abolishment of 'free speech zones'
In the wake of anti-free-speech demonstrations at colleges across the country, the North Carolina legislature recently passed a law that strengthens free speech protections on college campuses in that state.
House Bill 527 "includes several important provisions that will better protect campus free speech," according to the Foundation for Individual Rights in Education.
Among the bill's provisions is a mandate that colleges allow students to distribute literature in "outdoor areas." As FIRE's Tyler Coward writes, "[R]oughly 1 in 10 colleges maintain problematic policies that restrict expression to certain areas on campus, oftentimes called 'free speech zones.' These misleadingly labeled 'free speech zones' are routinely struck down by courts because they unconstitutionally limit student expression to tiny, out of the way areas of campus." HB527, Coward notes, will hopefully mitigate "the need for litigation over this issue in North Carolina."
The law also "requires institutions to create a range of sanctions for any person under its jurisdiction who 'substantially disrupts the functioning of the constituent institution or substantially interferes with the protected free expression rights of others.'" The "substantial" qualifier, Coward points out, is intended to ensure that protected speech such as "fleeting boos" remains protected, while "conduct that materially disrupts or otherwise silences others" can (and will) be sanctioned by universities.
The language of this law is different from laws or bills in other states requiring specific mandatory minimum sanctions for students who materially disrupt the free expression of others. Instead, this law reminds institutions that they have an obligation to take action when people engage in conduct that silences their opponents on campus, while giving institutions the flexibility to evaluate each case in its individual context. This helps to ensure that those who shout down a campus speaker aren't required to be treated the same as those who physically assault a speaker.

HB 527 also states that colleges and universities "may not take action, as an institution, on the public policy controversies of the day in such a way as to require students, faculty, or administrators to publicly express a given view of a social policy." This language prevents institutions from taking positions on controversial issues in a way that forces others to conform to their view. For example, if an institution felt that marijuana should remain illegal, it could say so, and it could also require students to avoid its use on their campus. But the school could not force students, faculty, or administrators to publicly agree that marijuana should remain illegal. While institutions rarely overtly try to force constituent groups to take positions that conform to the school's viewpoints, the problem is not unheard of. This law will prevent such an occurrence in North Carolina.
MORE: North Carolina bill would punish students who interfere with free speech
MORE: The best state for campus free speech is … North Carolina?
Like The College Fix on Facebook / Follow us on Twitter
IMAGE: Flickr