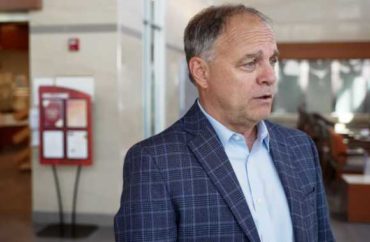 Bill proposes faculty must generate tuition exceeding their salaries
A Republican lawmaker in North Dakota has proposed legislation codifying new responsibilities for tenured professors at two public colleges and making it easier for their presidents to fire them.
"In response to the urgent need to accelerate workforce development, the state board of higher education shall implement a four-year pilot program," House Majority Leader Rep. Mike Lefor proposed Jan. 18 in House Bill 1446.
The new program would clarify faculty responsibilities and empower the president of the university could review and fire faculty if they failed to fulfill them.
The reforms would be enacted no later than May 1 of this year, according to the bill. They would apply to faculty at Bismarck State College and Dickinson State University.
The College Fix emailed Lefor (pictured) to seek clarification on the extent of the legislation, but no response has been received.
"In general, I support the Tenure with Responsibilities Bill… the concept of making tenured faculty members productive and accountable is an important change for the better, in my opinion," Stephen Easton, president of Dickinson State University, told The College Fix in a Jan. 30 email.
"By making all faculty members, including those with tenure, accountable, the Tenure with Responsibilities bill will provide a mechanism for college presidents to force unproductive faculty members to become productive or lose their jobs if they refuse to become productive," Easton stated.
"The vast majority of those in the workforce face similar potential consequences, from supervisors who review their productivity. It does not make sense, in my opinion, to exclude tenured faculty from supervisory review," he continued.
Easton added a clarification note stipulating his opinions may not reflect those of others at the college.
"I am certain that there are persons at Dickinson State University and the North Dakota University System," he wrote.
Bill proposed faculty must generate tuition exceeding their salaries
Under the "pilot program," tenured faculty would be required to "generate more tuition or grant revenue than the combined total of the salary, fringe benefits, compensation, and other expenses of the tenured faculty member plus all other costs of employing the faculty member, including employment taxes," according to the bill.
In addition, faculty must "comply with the policies, procedures, and directives of the institution, the institution's president and other administrators, the state board of higher education, and the North Dakota university system" and "effectively teach and advise a number of students approximately equal to the average campus faculty teaching and advising load," the bill states.
Faculty also must help recruit and retain students, help students succeed academically, and exercise "mature judgment to avoid inadvertently harming the institution, especially in avoiding the use of social media or third-party internet platforms to disparage campus personnel or the institution," according to the bill.
In a break with older norms of tenure, university presidents could fire faculty essentially at will 
Faculty could be reviewed and fired for failing to carry out these duties.
"If a president determines a tenured faculty member has failed to comply with a duty or responsibility of tenure, the president may not renew the contract of the tenured faculty member," the bill stated.
Finally, such presidential reviews are "not appealable or reviewable by a faculty member or faculty committee," according to the bill.
Additionally, "no complaint, lawsuit, or other allegation is allowed against a president or other administrator for actions taken pursuant to these provisions."
Doug Jensen, president of Bismarck State College, did not respond to a request for comment.
MORE: Regents refuse to fire tenured professor accused of racial insensitivity
IMAGE: RepMikeLefor/YouTube
Like The College Fix on Facebook / Follow us on Twitter