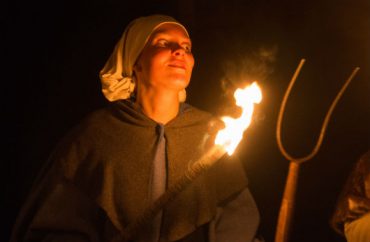 Interfraternity Council has Stockholm Syndrome
Northwestern University announced last month that female students had "potentially" been drugged and raped at the Sigma Alpha Epsilon house. It later said another student might have been drugged and raped at a different, unnamed fraternity.
Who reported these horrific crimes? No one knows. They were done anonymously.
And now the university that cried "wolf" is closing its investigation with no punishments, The Daily Northwestern reports:
The University concluded its review of the reports and will not investigate them any further at this time, according to an email from Patricia Telles-Irvin, vice president for student affairs. However, Northwestern will continue to look into other potential violations — unrelated to the reports — of the Student Code of Conduct by the SAE chapter, which were revealed during the initial investigation, Telles-Irvin said in the email.

The investigation into the unnamed fraternity was ended after "assessing all information and carefully considering the wishes of the person who spoke with (Sexual Harassment Prevention Office) staff," Telles-Irvin said in the email.
That loose phrasing by an administration official doesn't even clarify whether the "person who spoke" with office staff was the alleged victim.
What does this mean? Northwestern launched a witch hunt against two fraternities, intentionally naming one, without even knowing who the alleged victims were.
MORE: Northwestern accused SAE of rape based on anonymous report, no victims
And for some unknown reason, the president of the Interfraternity Council is crestfallen that no one got punished:
[Rodney] Orr said though he was confident in the University's ability to investigate the incidents, he felt the decision would threaten "progress" IFC was trying to make on the issue.

"It hurts a little bit," the SESP junior said. "This doesn't mean this isn't a problem in our community … this is an issue that not only affects people within the Greek community, but the entire campus."
This is the same IFC whose constituent fraternities each hung a banner last year that declared their support for "survivors" and said rape was "everyone's problem."
Their toadying earned immediate scorn from campus activists, and IFC apologized for "emotionally triggering" anyone who identifies as a victim of sexual assault.
The university's vocal and groundless witch hunt against two fraternities had immediate impacts, as Northwestern Prof. Laura Kipnis noted at the time, comparing the administration that earlier led a Title IX witch hunt against her to Rolling Stone:
[T]he university community has leaped to action, with Associated Student Government calling for immediately suspending SAE and other frats. Task forces are being created, social events are being suspended, there are calls to rewrite various constitutions and policies.

[W]e need to slow down the rush to judgment until we're in possession of sufficient verifiable information to form solid conclusions.
Kipnis's new book Unwanted Advances: Sexual Paranoia Comes to Campus comes out Tuesday. New York published an excerpt of the book earlier this week.
Next week's cover: (essay by @laurakipnis) pic.twitter.com/kVUxOf4d0A

— Chronicle Review (@ChronicleReview) March 29, 2017
MORE: Frats say rape is 'everyone's problem' – then apologize for 'triggering survivors'
Like The College Fix on Facebook / Follow us on Twitter
IMAGE: Hans Splinter/Flickr