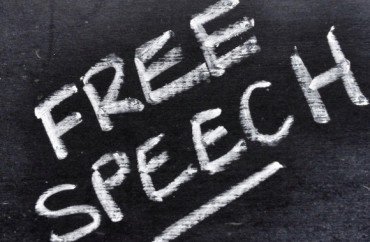 A couple weeks after students at Northwestern University prevented a representative from U.S. Immigration and Customs Enforcement from speaking to a class, the faculty senate at the university has stepped up to defend academic freedom and free speech.
The faculty senate on Thursday approved a statement supporting academic freedom, The Daily Northwestern reports. The statement stems from the May 16 incident, when students protested and prevented an ICE official from speaking to a sociology class. The statement is a response to a faculty letter that defended the student protesters, the campus newspaper reports.
From the article:
The statement, authored by the Executive Committee of Faculty Senate, urged University officials to ensure students are reminded of Student Handbook policies regarding demonstrations and are made aware of the consequences if those policies are violated.

"We stand strongly in favor of academic freedom (and) academic free speech," Senate president and religious studies Prof. Laurie Zoloth said. "Classrooms are not safe spaces. They are the location of our most vivid discourse. … While there is certainly a place for protest on college campuses, that place is not within the classroom."
The statement calls on the university to include speakers from across the ideological spectrum and urges debate and questioning of ideas.
"Within our classrooms, we do not silence the unpopular views; rather, we encourage exploration and debate them," it states. "We are responsible for creating classrooms where our students can question any speaker or any perspective in a civil and academic manner."
Beth Redbird, the sociology professor who invited the ICE official to her class, was present for the discussion on the statement and said she supported the measure, according to The Daily Northwestern.
MORE: An open letter to Wake Forest's President Hatch: Stand for academic freedom
Like The College Fix on Facebook / Follow us on Twitter
IMAGE: Shutterstock