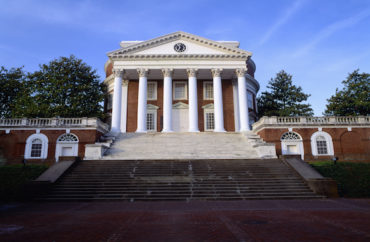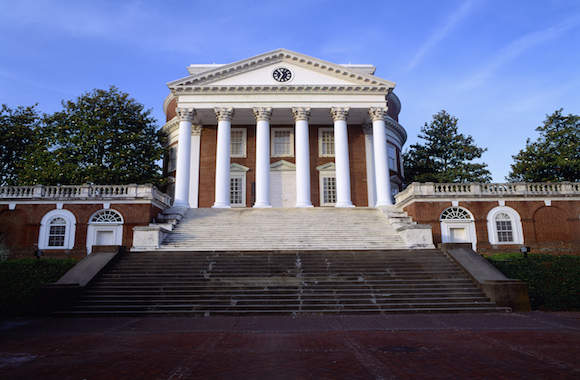 'Heinous and pretty divisive'
The University of Virginia has recently begun urging students to stop singing allegedly homophobic lyrics to the school's fight song, "The Good Old Song." The school is also urging students to stop using vulgarities when slamming their collegiate football rivals.
Written more than a century ago, a lyric of the university's fight song reads: "We come from old Virginia / where all is bright and gay." The word "gay" in this context is meant to refer to happiness and lightheartedness, its common usage in the early 20th century.
At many football games, however, some students will shout "Not gay!" following that line, an instance of wordplay on the term's more modern definition of "homosexual."
In a video released by the school, faculty, students and alumni urge students to stop singing the controversial lyric.
"'The Good Old Song' is really good as written," said the school's president, Jim Ryan.
"That, obviously, is not only not politically correct, it's heinous and pretty divisive," one student said of the tradition.
"I just had an amazing idea: stop doing that!" said actress Tina Fey, who is an alumna of the university.
"Obviously, nowadays, we're really pushing to just sing the song," one student remarks.
UVA's Dean of Students Allen Groves stated in the video that the tradition has continued "for several years," but in 2003 the website Outsports said the tradition was established in the 1970s.
School says it is seeking 'voluntary commitment'
Criticism of the effort to squelch the song addition has been sparse. "It's a football game. Let people say whatever they want," said one commenter of the video on Instagram amid dozens of comments of praise.
"As an alumna who was coming to terms with my mother being gay while I was an undergrad in the early 90s, I appreciate this so, so much," one commenter wrote. Another said: "The song doesn't need a kicker there, let alone a gratuitously offensive one.
"It's a good thing…definitely a step in an okay-ish direction," said a University of Virginia student who requested anonymity before speaking to The College Fix.
Asked whether or not the university would impose sanctions on students who continue to say it at football games, campus spokesman Wesley Hester told The Fix that the school is "seeking a voluntary commitment to help enact positive change."
'Fuck Tech': School urges participants to stop vulgarity, as well
The video also urges students to stop a traditional chant of "Fuck Tech!" at football games. The slur refers to Virginia Tech, UVA's intrastate rival. The two schools compete against each other each year in a storied football match.
Commenting on the "fuck Tech" cheer, Carla Williams, the university's athletics director, said in the video: " "That's not Virginia. Virginia's one of those places that competes, and wins, with class."
"Saying 'F Tech,' especially during games and public settings, is really not the right place and time for it," said Cavaliers quarterback Bryce Perkins.
"It's a bit much at Tech. I'd rather there be no chant at all," said the anonymous student from UVA.
Earlier this month, the UVA affiliate to Barstool Sports wrote on Twitter: "The 'not gay' chant is disgusting and embarrassing and I'm happy to say I almost never hear it at games. That being said, there's no way in hell I stop saying 'fuck tech'…cuz fuck tech."
The matter of abolishing the "not gay" slogan is not new. In its 2003 report, Outsports said that the school's LGBT Union "has long fought against the not gay' 'tradition', saying that it sends a message to the community that being gay is not OK."
The school's Student-Athlete Mentor Council that year was "leading the charge among student-athletes to eradicate the "not gay" cheer from football games." Student Kyle Singer, who was a sophomore at the university at the time, was instrumental in organizing opposition to the cheer, though judging from the school's recent video, he was ultimately unsuccessful.
"Traditions that are hurtful to people or oppressive are made to be broken. Tradition isn't necessarily a good thing," Singer said at the time.
MORE: Principal bans longtime sports cheer of 'White!'
IMAGE: Joseph Sohm / Shuttersock.com
Like The College Fix on Facebook / Follow us on Twitter