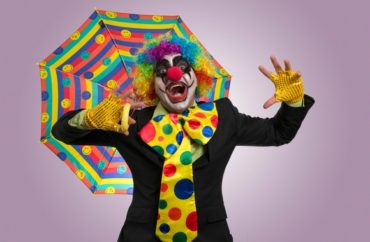 Hey, guess what? Halloween is on Tuesday.
If you've been reading The College Fix for a while, you know this holiday doesn't mix very well with modern college campuses.
We know that dressing up as a member of an historically marginalized group is the no-no, as is anything remotely associated with the Confederacy, an inventive "Trump wall" costume, and even a "sexy" Mr. Rogers outfit.
"Cultural appropriation," like the contemporary definition of "racism," absolves everyone but white people from any social wrongdoing. Look at what the Washington State U. student paper notes in its October 24 edition: "Cultural appropriation is the adoption of a particular culture's traditions and customs by a more dominant group, according to Oxford Languages" (emphasis added).
And here's a new one: Clown costumes are a problem. George Washington University freshman Nyla Moxley claims clowns have "distinctly racist origins" as one hundred and fifty years ago a pair of actors "created a character called the 'tramp clown,' which was intended to grossly depict Black people who had been displaced after emancipation and the end of the Civil War."
"While clowns and clown costumes have evolved over time," Moxley says, "you should question the origins of the curly wig and exaggerated features."
Moxley also warns about dressing up as a cop — "be sensitive to the system you're representing and how you act," she says. "If you're inclined to say 'not all cops,' I'd ask why you feel the need to dress up as someone from a group known for abusing their power."
MORE: Top female scientist canceled over 13-year-old 'Michael Jackson' Halloween costume
The GWU frosh must be a hit at parties, Halloween or not. Imagine her getting everyone's attention at a (clown-featured) kids' party, and then lecturing on clown history and police brutality.
"It is dehumanizing to feel voiceless and to be represented by the people who oppress you," Moxley writes. "Letting people get away with cultural appropriation and racism in costumes sends the message that both these things are socially acceptable and pushes the notion that minorities are not valuable until their existence lends value to that of a privileged party."
The whole "oppression" bit might be why Moxley identifies as black in her student paper op-ed, despite noting in a summer NPR article that she "identifies as mixed race having Black, Hispanic, Filipino, and White heritage" (with a passion for "social justice"). Having "white" in there puts her a bit further down on the oppression matrix.
Though the whole politically correct-academic set admonitions about Halloween costumes and the like already elicit eye rolls from real-world individuals, given current events such PC protestations should be met with overt scorn.
After all, we're supposed to listen to folks about cultural sensitivity and oppression … who in large measure are the same who claim Hamas' slaughter of over 1,000 people, including young children, is legitimate "resistance"?
You know where you can stick that.
MORE: After campus clown alert, Auburn confirms students won't be punished for wearing a mask
Last chance to support student journalists during our Back to School fundraising campaign! We're very close to our goal of $25,000. The deadline for the matching offer is quickly approaching so please donate by Oct. 31 to help us meet the goal. Thank you!
IMAGE: Studioimagen73/Shutterstock.com
Like The College Fix on Facebook / Follow us on Twitter