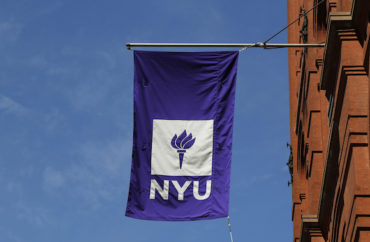 'Anti-semitic vandalism, verbal attacks and outright violence' by pro-Palestine group
New York University's bestowal of an award on its chapter of Students for Justice in Palestine was the last straw for one Jewish student.
Senior Adela Cojab filed a complaint with the Department of Education's Office for Civil Rights last month, accusing the university of failing to take action against SJP and its members for their "anti-semitic vandalism, verbal attacks and outright violence."
Realize Israel, the campus Jewish group that Cojab led last year, told The College Fix it agrees with "all aspects" of the complaint.
"Other than statements released by the university and by President [Andrew] Hamilton, no tangible efforts have been made" by NYU since Cojab filed her complaint April 22, the group said.
Over the last two years, the campus has experienced an overall increase of anti-Semitism at the hands of SJP activists, as alleged by Cojab's complaint, which was posted by Jewish Journal.
The pro-Palestine club has led Jewish students to "feel unwelcome and unsafe," even those who are interested in "climate change, anti-racism, anti-sexism and anti-homophobia," she told OCR. Any student who believe that "Israel is the nation state of the Jewish people, [has] been 'outed' and ostracized from the campus community."
The university's negligence violates Title VI of the Civil Rights Act, which "prohibits discrimination on the basis of race, color and national origin," according to the complaint.
MORE: Prominent alum renounces his NYU award after it honors SJP
The Fix reached the Office for Civil Rights national office Wednesday, but media relations has yet to provide the status of the complaint or answer whether it will open an investigation.
Jewish students suffer "constant harassment and discrimination" for their Jewish identity because of NYU's negligence, Cojab told The Daily Wire. "Attempts to directly discuss the underlying incidents with the NYU administration have generally been rebuffed or ignored."
Cojab's filing also cites the alleged financial ties between terrorist groups and SJP chapters on college campuses.
As opposed to a "grass-roots" student organization, SJP is "a terror-affiliated" network whose "principal backers include founders, financial patrons and ideological supports who have been connected to Islamist terror organizations such as Hamas, Hizbullah, [and] Palestinian Islamic Jihad."
The complaint's source for that claim is the Jerusalem Center for Public Affairs, an independent research institute on Israel-related issues. It's headed by Dore Gold, Israel's former ambassador to the United Nations and director-general of the Israel Ministry of Foreign Affairs, and staffed by Israeli scholars and former government officials.
"Contrary to its friendly and progressive moniker, SJP is a radical organization affiliated with terror groups, bent on adopting a policy of anti-normalization of Jewish student groups, and on isolating, demonizing, and ultimately destroying the Jewish state," the complaint claims.
Israel Independence celebration in Washington Square Park met by pro-Palestine Die-in. Rave In The Park is the 4th annual event held by Realize Israel, NYU student group. Full video https://t.co/ItHwRb1pXk
#raveinthepark #Israel71 #Palestine pic.twitter.com/I9TEcsSudQ

— @SCOOTERCASTER (@ScooterCasterNY) May 9, 2019
SJP award has 'amplified the extreme anti-Semitism on campus'
Cojab was particularly piqued by President Hamilton giving the President's Service Award to the SJP chapter on April 17, five days before filing her complaint. The award goes to "students or student organizations that have had an extraordinary and positive impact on the University community."
The same chapter is responsible for "two years of extreme anti-Semitism" at the New York City campus, she told the Office for Civil Rights: "NYU must be condemned for its callous and illegal decision to honor the SJP."
Her complaint doesn't clarify what exactly was unlawful about Hamilton giving an award to SJP, but it says the award "has only legitimized and amplified the extreme anti-Semitism on campus." As a result, Jewish students have been denied "their rights under the law to an environment on campus free of hostility created by anti-Semitism."
Hamilton's choice also earned a public rebuke from prominent alumnus Judea Pearl, UCLA professor and father of Wall Street Journal reporter Daniel Pearl, who was kidnapped and beheaded by terrorists in 2002.
He said SJP had used "intimidation tactics" in the past five years "that have made me, my colleagues and my students unwelcome and unsafe on our own campus."
Although the rise of SJP chapters is relatively recent, a 2016 study by Brandeis University's Steinhardt Social Research Institute found that "there is a direct correlation" between boycott, divestment and sanctions activities and anti-Semitism "on campuses with large Jewish student populations," the complaint paraphrases.
NYU's chapter also developed a reputation when it continuously interrupted a Jewish student group's event in Washington Square Park in 2018 to celebrate the 70th anniversary of Israel's sovereignty.
MORE: NYU student government passes BDS resolution
SJP members "wiped their feet on an Israeli flag," even setting one on fire, Washington Square News reported at the time. When Jewish students started singing Israel's national anthem, an SJP member forced a microphone out of one student's hand, injuring him, in order to shout "Free Palestine." Two SJP members were ultimately arrested and charged with assault.
That same year, the SJP chapter lobbied NYU's student government to pass BDS legislation.
The award for SJP prompted Susan Shapiro, who co-authored a book about the genocide of Bosnian Muslims, to synthesize the string of anti-Semitic occurrences at NYU in The Wall Street Journal:
The NYU Jewish Center received threats; swastikas were found in a residence hall. The student government passed an anti-Israel BDS — boycott, divestment and sanctions — resolution. NYU activists confronted a pregnant Chelsea Clinton and insanely blamed her for the massacre at a New Zealand mosque because she criticized Rep. Ilhan Omar's anti-Semitic slurs.
NYU has refused its Title VI obligations to take "immediate and effective action against student-on-student harassment, eliminate its occurrence, and address its effect on the affected community," Cojab told The Daily Wire. Rather, it awarded "the very organization that promotes discrimination and supports physical harassment."
This is why "Jewish students are increasingly hesitant to openly display their identity," she said.
More recently, the chapter boycotted the school's study abroad program in Tel Aviv, and got 50 other student organizations to join them. NYU's Department of Social and Cultural Analysis also "voted overwhelmingly to shun the university's own satellite campus in Israel," according to City Journal contributing editor Judith Miller, writing in the New York Post.
While more than 200 faculty and NYU higher-ups condemned the boycott, President Hamilton remained silent, and hasn't taken a position on the vote.
MORE: Chelsea Clinton blamed for New Zealand shooting at NYU vigil
IMAGE: Leonard Zhukovsky/Shutterstock
Like The College Fix on Facebook / Follow us on Twitter