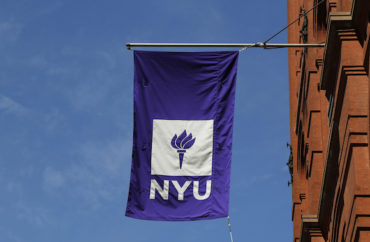 Resolution also requires written 'commitment to academic freedom and free speech'
Adela Cojab filed a federal civil rights complaint against New York University last year for turning a blind eye to the "anti-semitic vandalism, verbal attacks and outright violence" by its Students for Justice in Palestine chapter.
Rather than wait until the Department of Education's Office for Civil Rights finished its investigation, the private university sought a voluntary resolution, according to a Sept. 25 resolution letter shared with the student's lawyers.
NYU agreed to revise its nondiscrimination policy to ban "discrimination on the basis of shared ancestry and ethnic characteristics, including anti-Semitism," the letter says. It uses President Trump's definition of anti-Semitism from last year's executive order, which specifically threatened to pull federal funding from universities that fail to "reject anti-Semitism."
The university also pledged to "address and ameliorate discrimination and harassment based on shared ancestry and ethnic characteristics, including anti-Semitism that involves student clubs." The resolution obligates President Andrew Hamilton to release a statement by Sept. 30 that conveys these commitments, but no such message is listed on his communications page or among news releases as of Thursday night.
It will proactively solicit reports of campus anti-Semitism through "outreach activities" and follow through with student disciplinary action "when appropriate."
Jewish Insider reports that it's the first such resolution at an American university since the executive order codified anti-Semitism as prohibited by Title VI of the Civil Rights Act.
The university was likely doomed when Cojab, the student whose allegations formed the complaint, appeared with President Trump at a pro-Israel conference days before he signed the executive order in December. She talked about her experience with anti-Semitism at NYU.
MORE: NYU denies 'tangible' help to Jewish student after complaint, group says
A spokesperson claimed the agreement means the feds ended the review "without finding any wrongdoing by NYU," though the resolution letter makes clear that Office for Civil Rights investigators were still interviewing officials when NYU offered to make policy changes.
"NYU has long been understood as a place that is welcoming to and supportive of members of the Jewish community," he told Jewish Insider. "For that reason, the university has gladly agreed to several steps that would bolster our longstanding commitment to opposing and responding to anti-Semitism," which has experienced a "resurgence" in recent years.
The Brandeis Center for Human Rights Under Law, founded by recently departed Office for Civil Rights chief Kenneth Marcus, highlighted what it called a "notable and unusual provision" in the agreement.
NYU's revised nondiscrimination policy must include a "statement of the University's commitment to academic freedom and free speech," similar to what OCR required of Duke University in its own "anti-Semitism agreement" from earlier this year. This reflects "OCR's commitment to freedom of speech even at private universities that are not otherwise bound by the First Amendment to the U.S. Constitution," the center said.
Its president, Alyza Lewin, preemptively rebuked those who "falsely claim" that the NYU agreement infringes on speech, saying they "misunderstand the law or hope to excuse the anti-Semitism they wish to perpetrate." The agreement only requires NYU to use the feds' definition of anti-Semitism, itself taken from the International Holocaust Remembrance Alliance, as an "educational tool" to identify anti-Semitic conduct.
"This is an extraordinary development, a victory for all Jews, and a defeat of anti-Semitism that will undoubtedly improve the climate on NYU's campus" and prod other universities to proactively adopt the same definition, Lewin said.
Read the resolution and Jewish Insider report.
MORE: Trump signs executive order against campus anti-Semitism
IMAGE: Leonard Zhukovsky/Shutterstock
Like The College Fix on Facebook / Follow us on Twitter