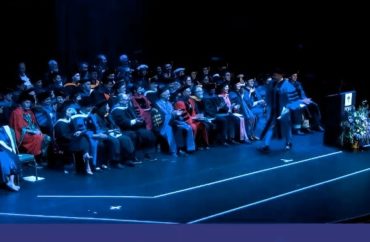 UPDATED
Takes three days to apologize for 'inappropriate remarks'
New York University is facing a federal civil-rights complaint by Jewish students who claim the private university openly tolerates the "anti-semitic vandalism, verbal attacks and outright violence" from its Students for Justice in Palestine chapter.
The school recently gave SJP the President's Service Award for its "significant and positive contribution" to campus. SJP is blacklisting other campus clubs that disagree with its views.
Its Department of Social and Cultural Analysis supports the boycott, divestment and sanction movement against Israel, recently voting to stop cooperating with NYU's Tel Aviv campus.
In the midst of all this, President Andrew Hamilton decided to clap after an anti-Israel speech at the Graduate School of Arts and Science's doctoral commencement Monday.
Jewish News Syndicate caught Hamilton applauding (at the 32:29 mark) as commencement speaker and journalist Steven Thrasher left the stage, having just used his platform to promote the BDS movement and denounce the "apartheid state government in Israel."
Thrasher, who was himself graduating from his doctoral program at NYU, declared himself "so proud, so proud" of the SJP and Jewish Voice for Peace chapters on campus. He also celebrated his colleagues in the BDS-supporting DSCA and the student government, which voted this year to demand NYU divest from Israel. Thrasher said it was their "NYU legacy" to pursue Israel's marginalization.
That wasn't all he said to pit the audience against each other. Thrasher said they must fight "attacks on abortion rights" in several liberal American cities and others around the globe.
And because it's another day on any campus in America, Thrasher called President Trump a "fascist."
It took Hamilton three days to realize he needed to distance NYU from Thrasher's remarks, at least those against supporters of Israel.
In a press release posted Thursday, the president said Thrasher excluded his BDS-related remarks from "the version of the speech he had submitted before the ceremony."
Thrasher's use of commencement to peddle his own views was "quite objectionable," Hamilton said:
We are sorry that the audience had to experience these inappropriate remarks. A graduation should be a shared, inclusive event; the speaker's words – one-sided and tendentious – indefensibly made some in the audience feel unwelcome and excluded.
He reiterated that NYU opposes academic boycotts of Israel, will not close its Tel Aviv campus, and "denounces efforts to ostracize or exclude those in the University community based on their location in Israel, their Israeli origin, or their political feelings for Israel."
Northwestern University, which just hired Thrasher to teach in its journalism school, also felt compelled to release a statement distancing itself from his views and choice of venue to express them. Thrasher enjoys academic freedom but he's expected to "promote these values in an environment free of coercion and intimidation."
Newsweek reported that Thrasher's dean, Philip Harper, also scolded him for hiding his full remarks from the university and falling "far short" of the university's expectations for doctoral graduates.
In a letter to Thrasher that Newsweek said was posted on NYU's website, but does not appear under "Latest News," Harper wrote:
On the contrary, your statements had the effect of making some in the audience feel unwelcome, disrespected, and—precisely because you had been given a platform that they lacked—voiceless. You no doubt expected that this would be the outcome, and for that reason omitted the remarks in question from the speech you submitted for prior review.
NYU appears to have hidden Thrasher's remarks from its YouTube page, which includes video of other commencement speakers. (Thrasher's graduate school hasn't updated its YouTube page in three years, but did post the livestream of the 93-minute commencement.)
One high-profile student who was planning to attend NYU this fall has pulled out after seeing NYU's tolerance for "anti-Semitic ideologies" among faculty and student organizations.
Incoming freshman Ellen Schanzer, the great-granddaughter of NYU music department founder Martin Bernstein, told the university she will not attend an institution where "my very existence is threatened":
It has now become clear to me that as a Jew, if I were to attend NYU, I would be affiliating myself with an institution that accommodates faculty members and student organizations that are dedicated to anti-Semitic ideologies. Some on your campus differentiate between anti-Zionism and anti-Semitism; however, I am not one of those people. This age-old hatred of my people wears different disguises in different generations, but [its] root objective is always the same.
An incoming college freshman, whose great-grandfather founded @nyuniversity's music dept and was a professor there for many years, withdrew her acceptance to the university. There will be more like her until NYU shuts down rampant anti-Semitism on campus. pic.twitter.com/SkRjsW4FZA

— Melissa Weiss (@melissaeweiss) May 22, 2019
UPDATED: The full commencement video was located and added after this post was published. It provides the context of President Andrew Hamilton's applause for the commencement speaker's address.
IMAGE: Washington Free Beacon/YouTube
Like The College Fix on Facebook / Follow us on Twitter