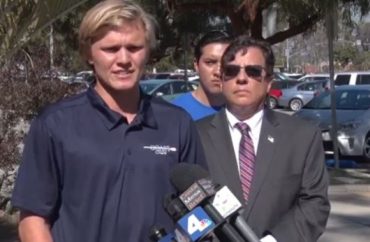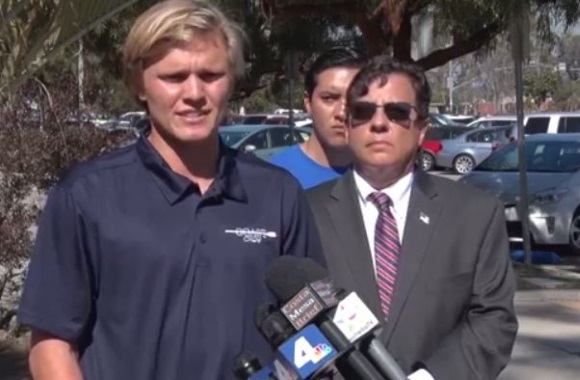 The Orange County Register, the daily newspaper of record for the large coastal swath of Southern California known as the "OC," has effectively declared war on Orange Coast College, which recently suspended a student for recording his professor's anti-Trump rant.
By now most have heard the story: A few days after the election of Donald Trump, student Caleb O'Neil recorded his human sexuality professor, Olga Perez Stable Cox, going on a rant against the results, calling it an "act of terrorism," calling Trump a "white supremacist," and calling Mike Pence "one of the most anti-gay humans in this country."
O'Neil has since been suspended pending appeal. Now the largest daily newspaper in the region has throw its significant weight in O'Neil's corner with a powerful staff editorial that strongly condemns and shames the school's leaders and promises to ride this issue hard until justice is served.
Headlined "Recall board if OCC student isn't reinstated," the editorial states in part:
This is absolutely disgusting. And every advocacy group and political organization in Orange County and beyond should organize against OCC.

To be sure, the freshman broke the rules about recording in class, but those rules are also absurd, especially considering that recording lectures is a common way for college students to study course material. Furthermore, OCC is a public institution that receives public money. It is not some private company, and Cox's opinions should not be considered proprietary information protected by copyright.

Moreover, Cox opinions don't belong in the classroom. Teachers are meant to teach, not persuade or indoctrinate students with their bias. The public has a right to know if their money is being spent on education or on erecting a bully pulpit to demonize certain students and express inflammatory viewpoints.

At its core, this is a full-fledged assault on free speech. And a desire to intimidate and squash differing political opinions. If Cox did not want her words shared publicly, she shouldn't have uttered them in a lecture hall. …

OCC ought to be ashamed for what it has allowed to happen here.

These types of infringements of speech may be tolerated in other parts of the country or even state, but not here, not in our community.

This community will fight for freedom of speech. And these pages are committed to fighting OCC until there is justice.

If need be, we will write daily editorials updating readers in our community about this injustice until it is remedied. …

O'Neil must be reinstated. The Board of Trustees must end the absurd policy of disallowing recording of lectures. Cox should be reprimanded. The school should publicly apologize to O'Neil. And the college should take steps to ensure that students do not feel threatened by teachers because they have differing political views.

If the OCC Board of Trustees will not deliver this justice, they should be recalled and replaced.
This is just a portion of the throw down the OC Register administered on the incompetent buffoons leading Orange Coast College. We at The College Fix offer a whole-hearted slow clap, and want to help share this editorial far and wide.
This is a hill to fight and die on.
MORE: Student who recorded prof's anti-Trump rant suspended, lawyer vows to fight sanctions
MORE: Professor tells students: Trump's election an 'act of terrorism' (VIDEO)
Like The College Fix on Facebook / Follow us on Twitter