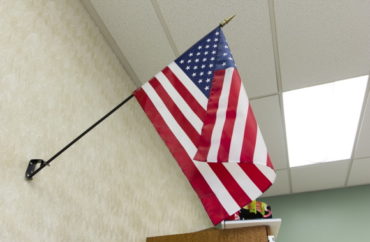 The Young Americans for Freedom chapter at Saint Louis University recently offered to fund and oversee the installation of American flags in every classroom.
The offer has been declined.
The student government representative charged with overseeing facilities and services requests informed YAF that the decision was based on more than just logistical and feasibility concerns, according to an email to the conservative group.
"[A]t the end of the day one of the biggest problems I have with this project surrounds the why of it all," student government Facilities and Services Chair Erik Staberg told the group March 20.
"As I mentioned in our meeting, talking with contacts at other universities, having flags in classrooms is just not standard practice," Staberg said.
"While there is nothing wrong with doing something different, in my opinion this project lacks a necessary motive. In thinking about whether or not to support this project I couldn't answer the question of why this is needed and in light of that I fail to see why this is necessary."
Nicholas Baker, president of the YAF chapter at the private Catholic institution, said he is disappointed but not surprised by the decision.
"Ever since we have started trying to bring YAF to Saint Louis University, we have gotten backlash from the administration, student government and fellow peers," he said in a phone interview with The College Fix. 
"When we brought Matt Walsh to come and speak there was a group called the 'SLU Sluts' who came to protest us and our chapter. They seem to have a lot of influence over the student government, which has power over the student involvement center, which is an unusual set up. We have been accused of not being inclusive enough."
A talk featuring Walsh and co-hosted by Young America's Foundation and the College Republicans at Saint Louis University last semester was abruptly canceled and forced off campus. It also drew a large protest.
Baker said YAF's motive for the flags was to honor those who died in 9/11.
"We thought it would be approved fairly easily," he said. "The point of it was to honor those who died on 9/11 since it was the 20th anniversary. The flag is a uniting symbol for all students."
Baker acknowledged that U.S. flags are not typically installed in college classrooms, that they are mainly found in K-12 ones, but he said he thinks that should change.
"In many classrooms around America, primarily in K-12, the flag is everywhere, and it blows my mind that it's not as much in college classrooms," he told The Fix.
As of now, the YAF chapter at Saint Louis University isn't even officially recognized by the university. The student government rejected its application last month, citing "tension" on campus.
"As an official non-recognizable chapter, [YAF is] not allowed to have funding from the student government," Baker said. "We can't hold events or fundraise. We are trying to go forward as an informal group and request a re-hearing from the student government. It seems like they are trying to play a waiting game until we give up. But we are not going to give up."
YAF, as well as the SLU College Republicans, has clashed with SLU campus leadership several times since the start of the 2021-22 school year.
Baker, president of SLU's College Republicans, said he plans to keep fighting for YAF's recognition. He recently ran for the student government's Vice President of Diversity and Inclusion position, but lost.
St. Louis University has not responded to The College Fix's request for comment.
MORE: SLU student faces suspension for posting Matt Walsh event flyers off-campus
IMAGE: Tu Olles / Shutterstock
Like The College Fix on Facebook / Follow us on Twitter