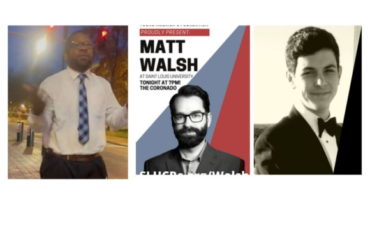 He also may be disciplined for arguing with administrators in violation of student handbook rules
A Saint Louis University student faces suspension for hanging flyers off-campus to promote an event featuring conservative Matt Walsh and for arguing with administrators when they told him to take the flyers down.
James Dowling is a member of the SLU College Republicans, which co-hosted the Walsh speech Dec. 1 along with Young America's Foundation.
A 27-second video taken Dec. 1 shows a heated debate between Dowling and SLU administrators.
The foundation has identified the SLU employees as David Young, director of event services, and Jackie Weber, director of the student involvement center.
"If you don't want to [remove the flyers], I'll remove them myself," Young said to Dowling. "I'm done with the conversation."
"Go for it," Dowling replies. "…I can come back here in like 30 minutes and put them right back up and cross out [College Republicans]. I don't understand why this is such a problem."
"Is this the best use of your time before an event," Weber then asks Dowling.
"Is this the best use of your time," Dowling responds.
"Are you done? Are you done? Are you going to interrupt or let me talk," she said.
"See, now you're talking down to me like I'm a child. I don't appreciate that," Dowling said.
At that point, the video ends.
University administrators David Young and Jackie Weber attempted to take down posters promoting the @MattWalshBlog, claiming the student was not authorized to hang them (despite being off-campus). pic.twitter.com/llaSze89fm

— YAF (@yaf) December 13, 2021
Dowling received a letter Dec. 9 stating that he faces suspension for the incident. The first page of the letter was published by Young America's Foundation. It accuses Dowling of violating two student handbook rules, "failure to comply" and "inappropriate conduct."
"Specifically, it is alleged that you were posting unapproved signs for an off-campus event, and that when contacted by University staff, you were allegedly confrontational, disrespectful, and failed to comply with reasonable requests made by the staff in accordance with their duties," the letter states.
According to YAF, because the SLU College Republicans are currently under investigation, they cannot post any promotional materials on or off-campus under university rules.
Dowling stands behind his actions.
"During the encounter, there was no doubt in my mind that the administrators were both outside of their realm of control and acting out of personal political bias," Dowling told YAF.
"I don't know why I'm under investigation for this ordeal. I think SLU should be investing their time into investigating their bully administrators instead."
The SLU College Republicans are under investigation for posting a video to their Instagram page earlier in the fall semester that featured Walsh asking students "to define what a woman is."
The video "may involve violations" of the Student Code of Conduct, according to SLU, specifically behavior "that fails to uphold the University's mission, values, objectives and responsibilities; behavior that fails to model good citizenship."
As for the Walsh speech, it was effectively booted from the SLU campus twice. First, administrators put onerous COVID restrictions on the event, so students changed venues to the Catholic church on campus. The church canceled Walsh, too.
Eventually the Dec. 1 talk was held in a local off-campus venue. It was packed by supporters inside, and drew protesters outside as well who yelled "my body, my choice."
Walsh has come the defense of Dowling.
"Dear @SLU_Official, you have seen what a total pain in the ass I can be. You don't know the half of it. Leave this student alone," he tweeted Monday.
Kara Zupkus, YAF's spokesperson, also called the university out for its disciplinary proceedings.
"Why do tyrannical campus admins think they can dictate what a student does off of campus? Filing charges against this student is as petty as it can get. These admins are literally targeting a student's access to education because of their political agenda. It cannot stand," Zupkus tweeted.
MORE: Students demand Matt Walsh pro-life speech be canceled, cite 'hate speech' concerns
Like The College Fix on Facebook / Follow us on Twitter