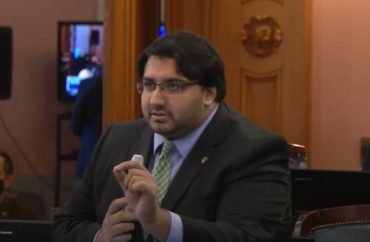 Democrats warn that it would make campuses 'less safe'
Ohio took a step this week toward expanding First Amendment protections on campus by passing the Forming Open and Robust University Minds Act on Wednesday.
The legislation abolishes free-speech zones on public campuses and eliminates content-based security fees charged for speakers, according to an analysis of the bill.
The legislation now heads to Governor Mike DeWine's desk for his expected approval.
It passed in the House with 66 votes in favor including 6 votes from House Democrats. All 27 votes against the legislation came from House Democrats who said the proposed law "is purely political and could have a detrimental effect on Ohio's college campuses."
"It could make our campuses less safe by blocking a university's ability to regulate speech and that could potentially incite violence," House Rep. Catherine Ingram said in a statement on the Democratic caucus' blog.
Niraj Antani (pictured), a Republican sponsor of the legislation, pointed out that every Senate Democrat supported the legislation, after Ingram said during debate that the bill intended to promote conservative speech. Andrew Brenner sponsored and led the passage of the Senate version of the bill in January.
"I wonder if House Democrats just try to find a reason to oppose something because it's Republican-sponsored," Antani said during debate on the bill, according to Cleveland.com.
Alliance Defending Freedom celebrated the legislation and Zach Pruitt, an attorney for the free-speech legal group, said:
Public colleges and universities are meant to be free and open to the exchange of ideas—a place where our future teachers, lawyers, doctors, judges, community leaders, and voters can exercise their constitutionally protected freedom of speech. The FORUM Act ensures that public universities remain places where intellectual diversity flourishes and all students can engage in the exchange of ideas rather than being censored on campus. We commend the Ohio House for protecting students' First Amendment freedoms and are hopeful for a speedy final vote in the Senate and a quick response from the governor to sign this important legislation.
The legislation also requires public universities to publish a report for the executive and legislative branch that details past issues with free-speech.
MORE: Educators fired for posting conservative opinions on social media
The legislation demanded a report that included:
A description of any barriers to or incidents of disruption of free expression occurring on campus, including attempts to block or prohibit speakers and any investigation of students or student groups on the basis of expression. The description also shall include the nature of each barrier or incident and the disciplinary action, if any, taken against members of the campus community determined to be responsible for the barriers or incidents.
Ohio public campuses have had their struggles with free-speech on campus. For example, Ohio University banned protests inside campus buildings in 2017.
In 2018, Miami University of Ohio settled with pro-life students after it tried to force the Students for Life group to put up trigger warning signs outside a display that talked about the number of abortions.
(I helped work on this situation while at Students for Life. One of the students involved, Ellen Wittman, now actually works at Alliance Defending Freedom).
The legislation now heads to Governor Mike DeWine's desk for his approval.
MORE: Iowa State rejects journalism professor's demand to ban College Republicans
IMAGE: Ohio House
Like The College Fix on Facebook / Follow us on Twitter