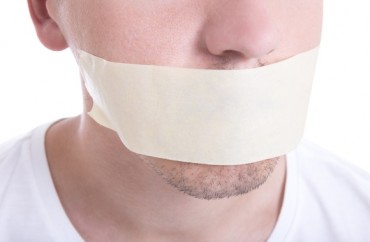 The College Republicans at Ohio University say they are under siege by peers for painting a message on the campus free speech wall defending the First Amendment.
In a barrage of cyber harassment over the last day, they have been called racists, described as Klansmen, and accused of literally threatening the campus — all over a painted message that read "Trigger warning: there are no safe spaces in real life! You can't wall off the 1st Amendment."
"It got so much hate, I just don't know if I have ever received so much hate in my life," David Parkhill, 19, president of the Ohio University College Republicans, said Thursday in an interview with The College Fix.
"Granted, I knew what I was getting into, but I didn't think it would be that much hate," he said. "We are basically a minority on this campus. Our opinion is so put down and so crushed, it's almost like we don't have a say."
Out here voicing the opinion of the people who believe in the wall and national security. #freedomofspeech pic.twitter.com/V1cO0hsb1R

— College Republicans (@OUCRs) April 14, 2016
The College Republicans had painted that message Wednesday night to defend free speech in response to Greek Week events being recently canceled over pro-Trump graffiti on a free speech wall written by some frat members saying "Build the Wall" and "Trump 2016."
"We are not a Greek organization, but we were standing up for free speech on campus," junior Aric Kaskey, the social chair for the Ohio University College Republicans, told The College Fix in an interview Thursday.
Their free speech wall message was painted over within hours.
"Almost immediately we were getting backlash, some said it was reminiscent of a KKK rally, people called us racist, they said we were threatening them by saying 'trigger warning' — even though almost every professor says that when they discuss a topic that is kind of hard for people," Kaskey said.
RELATED: College Republicans 'trigger warning' wall message quickly painted over by critics
Kaskey and Parkhill said they used the terms "trigger warnings" and "safe spaces" because those are the buzz words used in the left-leaning lexicons of peers and professors. To suggest they actually meant a gun by using the word trigger is ludicrous, they said.
"They are trying to deflect," Kaskey said. Added Parkhill: "We looked up trigger warning and it means 'warning, what you are about to read might offend you,' and that is exactly what we wanted to say."
Parkhill said it's ironic College Republicans have been accused of threats when it's their group that has been physically threatened by a fellow student who tweeted he would "beat the shit out of whoever put that bullshit on the wall."
"That is an actual threat against us," Parkill said. "Don't act like we're the ones posing unsafe ideas when we are the ones being attacked here."
Kaskey said he and the members of his group are "being suppressed constantly" — not just in this latest incident.
"We can't have a viewpoint on our campus," he said. "Conservative or even moderate views on campus is considered racist, is considered bigoted. … We are a lot of good people, we just believe in conservative, Republican values. … [But] it's just unbelievable the amount of scorn we get."
"They don't support free speech unless it's an opinion they agree with. Unless you agree with them, they don't want to hear it."
Frustrating the College Republicans further is the fact that, after the controversial pro-Trump graffiti appeared on the free speech wall, President Roderick McDavis sent a campuswide email stating "this wall is a place of free speech and expression; however, the words painted were troubling because they had a very different meaning to some than they may have to others viewing the message or even to those who painted the message."
RELATED: Ohio University flips out over 'defacement' of Black Lives Matter message on 'graffiti wall'
Parkhill, who met with the dean of students on Thursday, said he feels the administration is unwilling to similarly rally behind College Republicans. He said he asked campus officials to put out a statement condemning all the hateful names his group has been called, and he awaits that support, unsure if it will materialize.
"I asked the university to come out and say something," he said. "If we are going to be all about inclusion and everyone gets their right to free speech, the university backed the other side when those people were all offended by the Trump wall."
As for the notion that saying "build a wall" is racist, Parkhill said that doesn't hold water — it's a stance taken by tens of millions of Americans and Republican presidential front-runners and it underscores a notion that this country is a nation of laws that must be followed as well as national security concerns.
"It's not a race issue, but that is what they are trying to make it," he said. "They are trying to silence us … they are attacking us — that is why we are fighting."
Parkhill said he understands the issue is bigger than the brouhaha at Ohio University, that the hypersensitivity of college students today is out of control, and administrators coddling such students makes things worse.
"People just freak out and they are offended way too easily, but [administrators validate] their fear and say 'It's OK to be afraid because someone wrote something on a wall. They are feeding into it," he said.
"It is bigger than Trump," he added. "It's bigger than the wall. It's about conservative speech and conservative values on college campuses being taken away."
RELATED: Ohio U. race protest group wants establishment of mandatory 'cultural competency' courses
Like The College Fix on Facebook / Follow us on Twitter
Main Image: Shutterstock
Like The College Fix on Facebook / Follow us on Twitter