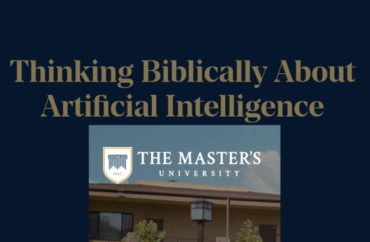 "Our challenge is to both inspire students and enforce that you cannot let ChatGPT determine you."
That according to Abner Chou, president of The Master's University, who told The College Fix in an interview his institution's scholars are actively working to analyze the use of ChatGPT through a Christian ethic.
"My concern with ChatGPT and my challenge to the faculty is we must always call our students to not be determined by the artificial intelligence but to be the discerners of it," Chou said.
In other words, Chou said, ChatGPT is akin to any other secular temptation students will face in life, and scholars at The Master's University, a Christian liberal arts college in Santa Clarita, Calif., hope to inspire students to use it ethically and wisely, without sin.
"Just because something is new does not mean we do not know how to interact with it. The heart issues always remain the same," Chou told The Fix.
Like at most universities, The Master's University scholars are grappling with how best to respond to students who use the technology to plagiarize homework or get answers for exams, and professors are actively working to formulate an official policy to deal with those caught cheating.
The response comes on a campus that offers a computer science major with an emphasis on artificial intelligence.
"TMU's artificial intelligence emphasis equips students with all the fundamental computer science skills a top-shelf technologist needs, as well as the expertise necessary to pursue a career in developing and deploying intelligent machines," its website states.
In fact, Chou tweeted on March 28: "Thankful for #ChatGPT b/c it skyrockets the demand for our alumni by exposing that much of higher ed is just mass-produced intelligence and not the wisdom, conviction, and leadership that true education compels."
"Thankful for #ChatGPT b/c it skyrockets the demand for our alumni by exposing that much of higher ed is just mass-produced intelligence and not the wisdom, conviction, and leadership that true education compels." –@abnerchou https://t.co/YAua0Yvsy2

— The Master's University (@mastersuniv) March 28, 2023
With that, the university is not going to ban its use, its leaders said in interviews with The College Fix. They said they're just asking students to use it ethically.
Professors likened it to a tool like any other piece of technology, comparable to Wikipedia, spell check, or a calculator. Just like any resource, students are expected to exercise discernment and approach learning with an honest pursuit of knowledge, rather than cutting corners, they said.
Students are allowed to use the search engine, but are expected to approach the software with prudence and discretion.
ChatGPT is a type of artificial neural network, known specifically as a transformer network. As a type of predictive-learning model, ChatGPT adapts to and exhibits human like behavior when used.
Through a formulation of complex statistical algorithms, the consumer can receive an answer to almost any question in seconds. To do so, the system has access to large amounts of data from the internet, allowing the system to precisely answer questions of the consumer.
In some ways, man is mimicking God's creation, according to the university's Christian scholars.
"We are now manifesting that image more clearly than ever by making intelligent machines in our own image," Professor David Crater, chair of the Engineering and Computer Science Department, told The Fix via email.
In 2021, prior to ChatGPT's launch, Professor Crater created a video series for TMU's Center for Thinking Biblically that addressed the origins of Artificial Intelligence as an autonomous machine created in the image of man and how society will be affected by it.
In the final video of the series, Professor Crater mentioned several texts published in the late 20th century, including "God and The Mind Machine" and "Robot: Mere Machine to Transcendent Mind," in which other scholars discovered the similarities with the creation of man and AI systems.
Professor Crater is no stranger to AI. He built an AI system during graduate school that translated Hebrew into English.
For higher education, "the biggest issue around ChatGPT is plagiarism, which is already a major ethical concern in higher education," he said.
Tai-Danae Bradely, executive director for The Math3ma Institute, told The College Fix via email that students who use ChatGPT unethically are falling short of God's design for them.
"Everything we do as Christians should be done with excellence as we 'do [our] work heartily, as for the Lord rather than for men,'" she said, quoting a verse from the Bible.
"…For the Christian, our foundation is the wisdom found in Scripture. It is the lens through which we view everything, and AI is no exception."
Monica Vroman, a visiting research professor at The Master's University, said students should be somewhat critical and discerning of the new technology.
"As Christians, we also need to be informed and not naive about technology. We need to be aware that the motivation behind many systems that are used today is to make them money," she said via email.
However, she said that does not mean Christians, including Christian students, can't find useful and positive ways to use the technology.
"It's hard, if not impossible, to know what the true motivations were behind the first attempts at implementing AI," Vroman told The College Fix via email.
"However, I think we can safely say that many researchers (and I include myself in this category) are motivated by the desire to build something useful, something that will help people or even make their jobs and lives easier and more enjoyable."
Mitch Hopewell, provost and chief academic officer for TMU, told The Fix that the deans have decided that banning ChatGPT's use "would be counterproductive." But, he added, they do plan to make it explicitly clear that using it with dishonest intentions is a violation of the school's academic dishonesty policy.
"There are industries and disciplines in which students need to learn to use it. We are comfortable leaving the academic dishonesty policy in place," he said.
MORE: Scholarly panel: Troubling questions, concerns remain over AI technology, ChatGPT
Like The College Fix on Facebook / Follow us on Twitter