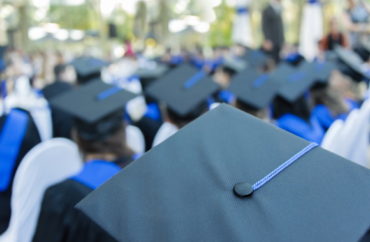 UPDATED
A review by Young America's Foundation of this year's commencement speakers at the top 100 universities as ranked by U.S. News & World Report identified only one conservative.
"With 37 liberal speakers imparting progressive ideas and just one conservative addressing graduates, the bias in this year's commencement season is undeniable," YAF stated in reporting its findings.
The spreadsheet of the 100 graduation speakers put together by YAF gives each speaker on the list a ranking of either liberal, conservative, unclear or N/A.
Nearly 40 were marked liberal. The rest were marked "N/A" with just a few slated as "unclear."
The only speaker given a "conservative" listing is Tom Jorden, the president of Cimarex Energy, who is giving the address at his alma mater, Colorado School of Mines.
(After publication, an eagle-eyed reader contacted The College Fix to point out Purdue University's grad speaker, President Mitch Daniels, is conservative. The YAF spreadsheet has Purdue's entry listed as "university leadership, N/A." So it is accurate to say there are at least two conservative speakers this year).
In contrast, the "Class of 2021 will hear divisive speeches from many left-wing speakers with a history in social justice and 'anti-racism,' including Kareem Abdul-Jabbar, John Legend, David Brooks and André De Shields," the foundation states.
"Other outspoken liberals including Dr. Anthony Fauci, Oprah Winfrey, Bryan Stevenson, Education Secretary Miguel Cardona, Bob Iger, and Dr. Brittany Lewis will be speaking at some of America's top-rated schools."
The Washington Examiner reports that President Joe Biden will give the commencement to the U.S. Coast Guard Academy and his wife, Jill, at George Mason University, but "the administration has discouraged top officials from speaking, concerned about promoting virus super-spreader events."
While colleges and universities considered top-ranked by U.S. News & World Report's standards have eschewed right-minded graduation speakers, there are beloved and respected colleges that have welcomed conservative and center-right voices this year.
Actor and comedian Tim Allen gave the commencement at Hillsdale College this year. He spoke of his challenges in life and what he has learned from them.
Athlete and evangelist Tim Tebow gave the commencement at Liberty University, calling on the students at the Christian institution to "view their work as worship."
Editor's note: Updated to correct that there are two conservative speakers, adding Purdue President Mitch Daniels to the tally. 
MORE: YAF's 2020 commencement speaker findings
IMAGE: Mr. Nikon / Shutterstock
Like The College Fix on Facebook / Follow us on Twitter