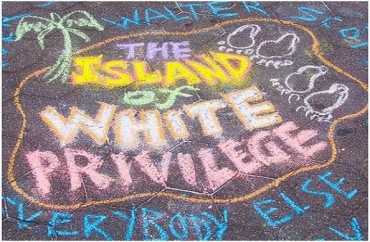 Every year, teachers and administrators in the Gresham-Barlow School District in Gresham, Oregon, attend a week-long "Coaching for Educational Equity" conference.
Run by the Oregon Center for Educational Equity (OCEE) at a cost of about $100,000, school personnel are treated to the all-too common progressive concept that "all white people are racists, whether they realize it or not, and that racism permeates American society and the nation's education system."
The theory says that school curricula, instructional methods and disciplinary policies are hopelessly based on the norms of white culture, for the exclusive benefit of white students. It teaches that black students cannot possibly succeed unless K-12 education is modified and customized to their supposed culture.

The "white privilege" crowd claims that fundamental ideals of American society, like hard work for personal gain and personal ownership of property, are products of white culture and completely foreign to black students.

That means schools that try to prepare black children for success in the American free market economy are spinning their wheels, because black culture is collectivist in nature. The obvious political message is that black kids will only thrive in a socialist economy.

One section of the conference manual – titled "What is CFEE?" – offers the following summary statement:

"… Many white people in Oregon have no idea that our schools and state are immersed in white culture and are uncomfortable and harmful to our students of color, while also reinforcing the dominant nature of white culture in our white students and families."

Another section suggests that academic and behavioral standards (presumably for minority students) should be adjusted, because the failure is in the expectation, not in the outcome.

For example, schools should be "examining their own beliefs and practices when students don't meet standards," the conference manual says.

Instead of "controlling or teaching discipline to students," schools should be "changing school practices that alienate students and lead to disruptions," the manual says.

Translation: If minority kids act badly or flunk a test, it must be the fault of the school and its policies.
Thankfully, the conference is optional for teachers. It is required, however, for administrators.
Remarkably, like other (similar) programs, participants should not expect any concrete answers or closure. This is probably because, as article author Steve Gunn notes, "solutions might solve problems and eliminate the need for their services."
Ironically, a section of the group's materials asks attendees if they have "contributed financially to an organization, fund or project that actively confronts the problems of racism."
Like The College Fix on Facebook / Follow us on Twitter
IMAGE: waywuwei/Flickr