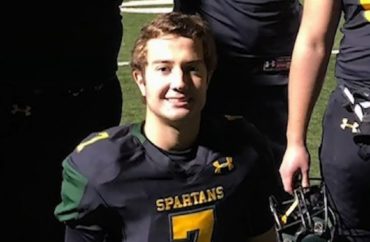 Illinois governor is not prioritizing returning athletes to competition
An Illinois high school quarterback committed suicide on January 7, apparently after suffering from depression. He attended Glenbrook North High School in the north suburbs of Illinois.
Dylan Buckner's parents say that while he struggled with depression before coronavirus spread across the country, the governmental response to it worsened his depression.
"The family believes that had COVID not happened, or the country's response to COVID had been more effective, Dylan would still be alive today," Chris Buckner, Dylan's dad, said in a statement published by NBC 5 Chicago. He also said that "[Dylan's] depression worsened significantly after COVID hit."
"He said he was coming this year, this was going to be his year, and then I was waiting to see it," Darius Hunt, Dylan's teammate said, according to NBC 5. "But unfortunately, it got cancelled due to COVID."
Buckner had 14 offers to play college football and aimed to play for MIT after graduation. He owned the school record for career pass completions, NBC 5 said.
His story echoes that of Spencer Smith, a Maine high school football player. Smith committed suicide in December after seeing his own football season cancelled, unilaterally, by the state's governor.
The state of Illinois, under the leadership of Democratic Governor J.B. Pritzker, continues to string along high school athletes. Pritzker cancelled the fall high school football season and appears slow to help get a football season going in the spring.
MORE: High school athletes, families rally against onerous COVID sports ban
Pritzker currently faces a lawsuit over his handling of coronavirus restrictions. A handful of parents and students are suing the governor, claiming high school athletes have had their rights to equal protection violated. The governor has allowed college and professional athletic competition, but banned most high school sports.
While the Illinois High School Association, a nonprofit that oversees high school sports in the state, wants to see a football season start in February, Pritzker is taking his time.
"It's not like there's no discussion about sports," the governor said last week, according to the Chicago Sun-Times. "It's just that the IHSA, which is one of many organizations in the state . . . we have doctors and others that we rely upon internally to help us make decisions. When it's appropriate to have a conversation with an organization, they'll do that."
However, the governor has not instituted a ban on all sports, at least those in his own home.
Conservative publication Prairie Wire reported in September that his daughter continues to travel across the country to compete in equestrian events.
MORE: High school athletes face depression and anxiety from loss of sports
IMAGE: Buckner Family/NBC 5 Chicago
Like The College Fix on Facebook / Follow us on Twitter