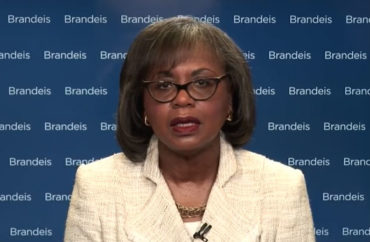 Structural inequalities got Thomas and Kavanaugh confirmed
Twenty-six years ago, Anita Hill spoke at the University of Pennsylvania after her sexual-harassment allegations failed to stop the confirmation of Supreme Court Justice Clarence Thomas.
Last week she returned to campus, after a different professor failed to stop the confirmation of another justice by accusing him of attempted sexual assault.
The Senate Judiciary Committee hearing where Brett Kavanaugh and Christine Blasey Ford gave competing testimonies "was not only a disservice to the principal witnesses, but was a disservice to the American public," said Hill, a professor at Brandeis University and chair of a sexual harassment commission focused on the entertainment industry.
"It's really a tragedy," Hill said of the Kavanaugh-Ford hearing. The senators' "framing of the process and their framing of the questions were not informed by facts and knowledge, and therefore they excluded a whole body of information that has been developed in the past three decades." She did not specify what she meant.
MORE: Students want Thomas's name removed from building
Not only was this a proud moment to be with two fierce sistas but to be introduced by our fourth, Anita Allen, vice provost of UPenn. Over a century of Law professing right here ya'll. A special and timely reunion! https://t.co/vStCsePJfg

— Kimberle Crenshaw (@sandylocks) October 13, 2018
The standing ovation and raucous applause for Hill suggested the audience was overwhelmingly supportive of her arguments and claims. However, at least one Penn student raised questions to The College Fix.
"The entire event was essentially a man-bashing fest," the political science major told The Fix, asking not to be named because she fears grade retaliation from her professor, who was also in the audience.
"We all understand sexual misconduct is abhorrent, but so too are frivolous accusations," the student continued:
I was not alive for Ms. Hill's testimony but Ms. Ford's testimony left a lot to be desired and had huge credibility issues. To not even acknowledge the existence of fake sexual misconduct claims left me a little uneasy.
Journalism school a 'proud co-sponsor' of event that prejudges all men
Hill was the first speaker in the series "Beyond Free Speech and Safe Space," organized by Penn's gender, sexuality, and women's studies program.
"Sexual Harassment from Congressional Testimony to the #MeToo Movement," with a sold-out crowd of more than 1,200, also featured the scholar credited with inventing the concept of intersectionality, Kimberlé Crenshaw. She advised Hill during her testimony against Thomas in 1991.
The event was sponsored by Penn's Alice Paul Center, which facilitates feminist scholarship across university departments and first hosted Hill in 1991.
The rest of Penn wanted in on the action, too. Another 17 departments and organizations cosponsored the Oct. 10 talk, including the Annenberg journalism school, one of whose professors argues in a new book that Donald Trump owes his election to "Russian hackers and trolls."
MORE: Penn journalism prof argues Russia indispensable to Trump election
Tomorrow: The Alice Paul Center hosts "A Conversation between Anita Hill and Kimberlé Crenshaw: Sexual Harassment from Congressional Testimony to the #MeToo Movement," moderated by Dorothy Roberts. The Annenberg School is a proud co-sponsor. https://t.co/5i6sqg8oIq @PennGSWS pic.twitter.com/O1mRK78Bul

— Annenberg School (@AnnenbergPenn) October 9, 2018
Other cosponsors include Penn Law, the Graduate School of Education, School of Social Policy, and departments of Africana studies, history, English, sociology, political science and anthropology.
Vice Provost for Faculty Anita Allen introduced the event, which was moderated by Dorothy Roberts, who holds joint appointments in Penn's law school and departments of Africana studies and sociology.
It was billed as "a discussion of the historical context for and current movements against sexual harassment," though the event page incorrectly says the Thomas hearings were 28 years ago.
Men have 'discursive capital' over women?
The discussion centered around the Kavanaugh nomination, to which Hill repeatedly compared her own experience, and the #MeToo movement to a lesser extent.
"We were all disserved in 1991, because people wanted to understand sexual harassment; in 2018, they wanted to understand sexual assault," Hill told the audience, which The Guardian reported was mostly women.
"What it's like going through that experience?" she asked rhetorically. "How does a person come forward to respond when they have been assaulted? What is the appropriate way for us to evaluate, in the context of a confirmation hearing, the significance of the information that Professor Blasey Ford brought?"
Both Hill and Crenshaw, a prominent race theorist, argued that structural inequalities led to the confirmation of both Kavanaugh and Thomas despite the serious allegations of sexual misconduct.
"We need to understand that what we're dealing with is not just behavior – we're dealing with systems that protect it and sometimes encourage it and sometimes reward it," Hill said. "Ford had no support. There was no organization that was on the inside … that was going to be able to help her."
MORE: Black prof says Clarence Thomas votes roll back civil rights
I was so privileged to listen to my heroes #AnitaHill & #KimberleCrenshaw

"we are not just dealing with behavior, we are dealing with systems that protect it, and sometimes encourage it, and sometimes reward it, & that is what you saw."https://t.co/oafJavE2HA

— Patricia Eunji Kim (@lowerendtheory) October 11, 2018
According to an account by Jessa Lingel, an Annenberg professor, Crenshaw said what most distinguished the Kavanaugh-Ford hearing from the Thomas-Hill hearing was how senators "seemed to get the memo about how the photo op needed to look" for the former.
Crenshaw made explicit racial comments about the process, according to Lingel, arguing that "we have to confront the fact that patriarchy doesn't change because we have some rights, racism doesn't change because we have some rights."
The race theorist said men have "discursive capital" over women, judging by the different styles of testimony between Ford and Kavanaugh. Lingel called Ford "calm, collected and believable" in her testimony, in contrast to the "emotional and cagey" Kavanaugh, who had been publicly accused of acts including gang rape.
Penn's Alice Paul Center, the event sponsor, did not return a phone message from The Fix seeking comment on the anonymous female student's claim that the event was one-sided and anti-male. Hill and Crenshaw did not respond to emails.
"Because of ignorance about our history … there was a failure of intersectionality" – @sandylocks on the failure to recognize U.S. black women's long historical experience of sexual harassment during the Thomas hearings

— Penn GSWS (@PennGSWS) October 10, 2018
MORE: Why Clarence Thomas hates Yale
IMAGE: PBS Newshour/YouTube
Like The College Fix on Facebook / Follow us on Twitter