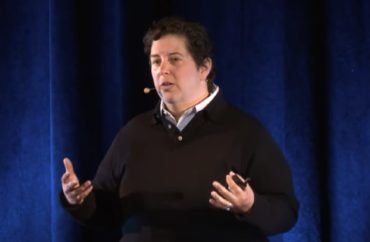 It only took an intervention from the Illinois Attorney General's office
Evanston is a liberal town just north of Chicago, but when it comes to government transparency, its policies would make the most dictatorial rulers proud.
It took an intervention from the Illinois Attorney General's office to force the city's police department to turn over its evidence as part of its investigation into an alleged hate crime against Elisabeth Lindsey-Ryan (right), an Evanston school board member, that occurred in early January.
The College Fix has obtained a copy of the Christmas card that was allegedly vandalized with a homophobic slur, over three months since first seeking records in the investigation.
Leah Bartelt, a public access counselor for the state attorney general office, sent an appeal letter on behalf of The Fix on March 3 and requested a response within seven days. The Fix had sent Bartelt the facts of the case and used its legal option to appeal.
The city finally acknowledged the letter on March 19, 12 business days after the letter had first been sent.
Finally, on March 26, the photo and notes on a reopened and then closed police investigation were turned over to The Fix in an email from city attorney Alexander Ruggie.
The College Fix sought also the video footage from the investigation, but the private security footage had never been logged as evidence.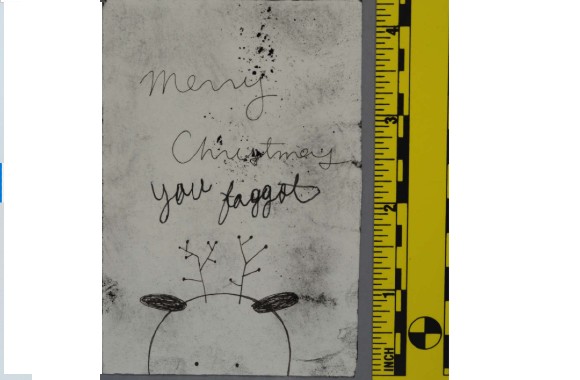 The Christmas card appears to just be a piece of paper that said "Merry Christmas" over which an alleged vandal wrote "you faggot." The ruler on the side is from the police investigation, measuring the length of the card.
The police originally closed the investigation in January and then reopened it in March, according to records obtained by The Fix.
Even though there have been no credible leads found, and read into that what you will, it did not stop the school board from rushing to condemn the incident as a form of "white supremacy."
A police report obtained by The Fix said that a private security camera nearby captured the incident, but yet, suspiciously, no one has been identified as the culprit. 
That didn't stop the school board from sending out an email to the community decrying the incident as white supremacy and linking it to the violence in DC earlier that week.
"Violent situations fueled by white supremacist rage and anxiety that might have felt far away, such as last week's attack by insurrectionists of the US Capitol Building, continue to hit closer to home," Lindsay-Ryan wrote with the school board president in early January.
Lindsay-Ryan has repeatedly ignored emails, phone calls and Facebook messages seeking comment on the incident. 
It makes her a good person to represent Evanston's government, since the police department and the city's counsel blew past statutory deadlines.
Even the city's clerk, Devon Reid, had to sue to get information from Evanston.
MORE: University disputes allegation it 'forcibly removed' black student from dorm
IMAGES: Evanston Police Department;TEDx Talks/YouTube
Like The College Fix on Facebook / Follow us on Twitter