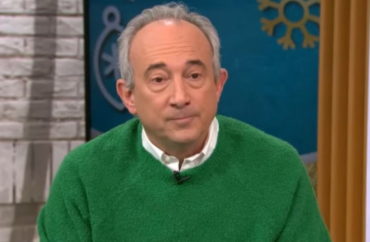 More plagiarism found in doctor's previous three books as well; he relied on a ghostwriter
A celebrated professor of medicine at the University of Southern California has recalled his new book after major sections were called out for plagiarism.
Dr. David Agus recalled "The Book of Animal Secrets: Nature's Lessons for a Long and Happy Life" earlier this month after the Los Angeles Times "found at least 95 separate passages in the book that resemble — sometimes word for word — text that originally appeared in other published sources available on the internet."
Agus, head of the Ellison Institute for Transformative Medicine and host of "The Checkup with Dr. David Agus," which has featured the likes of Aston Kutcher and Oprah Winfrey, did not respond to a request from The College Fix seeking comment.
Reached for comment, Simon & Schuster directed The College Fix to its published statement, as well as one from Agus.
"I want to sincerely apologize to the scientists and writers whose work or words were used or not fully attributed," Agus stated.
Agus stated he told the publisher to "halt the publication of the book in all formats."
"Second," he added, "I will rewrite the passages in question with new language, will provide proper and full attribution, and when ready will announce a new publication date."
Simon & Schuster stated "Agus has decided, with our full support, to recall the book, at his own expense, until a fully revised and corrected edition can be released."
On March 24, Los Angeles Magazine reported that Agus' book had been largely ghostwritten, in this case by a woman named Kristin Loberg, who has helped write many books for high-profile scholars.
"Like all three of the previous books that Agus has published in the last 12 years, it was ghostwritten by Loberg, whose name appears on the title page," the magazine reported.
"Agus says he dictated the substance of the book; Loberg added the color. She assured him that she had run the books through plagiarism software multiple times. She assured all her authors the same thing. It was in her contract," it added.
Bestselling authors like Dr. David Agus and Dr. Sanjay Gupta are caught in a plagiarism storm as their trusted ghostwriter, Kristin Loberg, is exposed for incorporating plagiarized content in multiple books.

🔗: https://t.co/0iYI6URpdc pic.twitter.com/AW8JT08Sxa

— Los Angeles Magazine (@LAmag) March 24, 2023
The Daily Trojan, citing the LA Times, reported that Agus's most recent book borrowed from The New York Times, Wikipedia, National Geographic and various academic institutions and scientific journals.
In a statement to the Daily Trojan, the Keck School of Medicine said it "takes allegations of plagiarism very seriously and has processes in place to review such matters," but could not comment further "given the confidential nature of personnel matters."
Yahoo reports that prior to it being pulled, the "hype around the book was partly because of Agus' high-profile reputation."
"The doctor has a TV mini-series on Paramount Plus, where he interviews celebrities … about their health problems."
According to the Ellison Institute, Agus "is one of the world's leading physicians and the cofounder of several pioneering personalized medicine companies." Agus holds degrees from Princeton and University of Pennsylvania.
On March 17, the Los Angeles Times reported that it has "since reviewed Agus' three previous books — 'The End of Illness,' 'A Short Guide to a Long Life' and 'The Lucky Years' — and found more than 120 passages that are virtually identical to the language and structure of previously published material. Sources include newspaper and magazine stories, scientific journal articles, popular science books, Wikipedia and blogs."
"Plagiarism found in more of USC Dr. David Agus' books."https://t.co/Kmsog4QOQ2 pic.twitter.com/BzuhbVGnE0

— Retraction Watch (@RetractionWatch) March 27, 2023
"The Times presented the company this week with a list of the passages. The publisher responded two days later with a statement saying it was aware of 'these issues' but that the books will stay on the market in their current form until new editions are released."
MORE: Princeton mum on whether it will investigate prominent professor accused of plagiarism
IMAGE: YouTube screenshot
Like The College Fix on Facebook / Follow us on Twitter