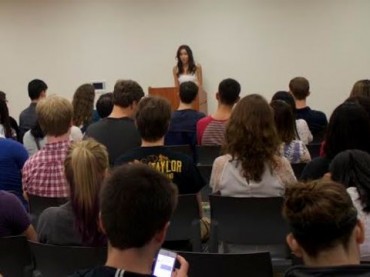 "I felt that being screwed on camera was the best way to avoid being screwed by the higher education system."
So declared Belle Knox to a room full of students at the University of North Carolina at Chapel Hill on Tuesday night in a talk designed to address the skyrocketing costs of college.
Knox, whose real name is Miriam Weeks, is an adult-film star and sophomore at Duke University. She gave a 20-minute lecture on how government subsidies increase tuition prices, followed by a question-and-answer session. More than 100 students attended the event, hosted by Young Americans for Liberty.
"When the government gets involved in things, it distorts the natural incentives and largely ignores scarcity, and these distortions cause rising prices," she said.
That's what led her to the porn industry, she said. 
"I was 18 years old and I had a choice: take out over four years around $240,000 in loans or finance my education out of pocket," Weeks said.
While Weeks rose to fame last year for her side job – which garnered praise and criticism – more recently she has become something of a spokeswoman for what's wrong with unchecked soaring higher education costs subsidized by the federal government.
She penned a column in TIME magazine in June titled "I Lost My Financial Aid" that was largely well-received as a strong critique of the higher education bubble, for example.
At UNC on Tuesday, she focused on how administrators have no incentive to reduce tuition costs because government-backed student loans are easy to obtain, meanwhile the government makes billions of dollars annually in loan repayments and student debt stands at nearly $1 trillion dollars.
"If I could back in time and see the future and see how hard it would have been for me to pay my bills, I'd probably would not have gone to Duke," she said.
Weeks said government subsidies cause tuition prices to increase, adding federal loans increase demand while also giving college leaders no incentive to cut costs or innovate.
"It's a bit of a circle: education is unaffordable because of the government's involvement, and the government's involvement is now justified as necessary because education is now unaffordable," she said.
During the question-and-answer session, Weeks answered questions varying from the economy, her career in the adult film industry, and her personal life.
"I think the worst part about doing porn that can be summed up in one word is guilt," Weeks said about her controversial side-career. "Porn has ruined a lot of relationships in my life. I've lost a lot of people I've loved. … Porn has allowed me to live the life I want to live. … It's blessed me with a lot. But it hasn't been easy."
UNC Chapel Hill sophomore Brittany Smith told The College Fix she was impressed by Weeks' speech.
"Even in Belle Knox's industry, she's just like us and is striving to pay her college tuition. She just chose a different way to do it," Smith said.
"Belle Knox gave a room dominated by men an educated view of the fallacy of our education system," said junior Wesley Wright, president of the Young Americans for Liberty chapter at the University of North Carolina School of the Arts in Winston-Salem. Wright drove three-hours round trip to hear her speak. 
"I think many of them came to hear a porn star speak, but in the end got a much-needed lesson on economics and financial aid," he said.
UNC Chapel Hill sophomore Hunter Markson said he got more out of the event than he originally expected.
"Her speech really opened my eyes to how government loans and grants are screwing us harder than the stuff on the screen," he said.
The UNC Young Americans for Liberty chapter advocates for social and economic freedom and individual liberty on campus. The group brought Weeks to UNC to attract students who might not have otherwise had the opportunity or inclination to hear a libertarian stance on college tuition or a libertarian position in general.
Weeks told her peers that being a libertarian means having the freedom to live your life as you see fit as long as you do not hurt other people.
The group's goal was for attendees to develop an understanding of how government subsidies increase tuition prices, start questioning the impact of other government policies, and consider joining their chapter and becoming active in their mission to change such policies.
Weeks is a member of the Duke Young Americans for Liberty chapter, and volunteered her time to give the speech free.
"Duke is still better," Weeks said, prompting friendly boos from the UNC crowd.
College Fix contributor Alexandra Johnson is a student at the University of North Carolina Chapel Hill and president of the UNC Young Americans for Liberty chapter.
Like The College Fix on Facebook / Follow us on Twitter
IMAGES: UNC Young Americans for Liberty