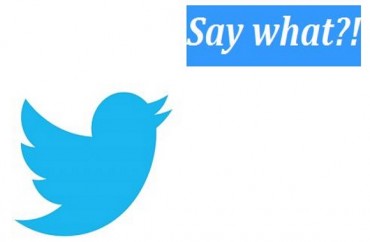 UPDATED
A University of Central Florida student has been suspended for "cyberbullying" after posting an apology letter from his girlfriend on Twitter … complete with spelling/grammar corrections.
According to the Miami Herald, senior Nick Lutz's girlfriend wrote the letter after he had blocked her cell number and her access to him on social media platforms.
He gave the four-page apology a 61 out of 100, a "D-minus":
"The thought of you has made me loose my sanity," she wrote.

"Lose," he corrected.

"I just hope to God you have thought about me like I have you," she wrote.

A red arrow under the sentence points to his note in the margins: "I have not."

"Long intro, short conclusion, strong hypothesis but nothing to back it up," he wrote. "While the gesture is appreciated, I would prefer details over statements. Revision for half credit will be accepted."
When your ex writes you an apology letter so you grade it to send it back pic.twitter.com/MczdjcCiil

— Nick Lutz (@NickLutz12) February 17, 2017
Despite Lutz making sure all of his girlfriend's personal info was omitted, she claimed she was being "cyberbullied." At first she went the local sheriff's office — without luck — and then to the university, where she filed a grievance.
The girlfriend is not a UCF student.
Weeks later, Lutz found out he was suspended for Summer and Fall 2017 for violating the "disruptive conduct" and "harmful behavior" clauses of the student conduct code.

Lutz's lawyer called the decision a violation of his client's first amendment rights.

"I think the damaging thing here is how does UCF decide what's morally harmful?" [Jacob] Stuart said. "There was nothing derogatory about it. It was obvious he was making fun of her, but that's the beauty of the constitution."

UCF declined to make anyone available for an interview, but a spokeswoman said all rulings are subject to appeal.

"It's important to understand that the process in this case may yet not be complete," said spokeswoman Courtney Gilmartin.

Stuart said he plans to appeal his client's suspension and hopes to see Lutz back in the classroom before the summer semester starts.

"He doesn't want money. He doesn't want anything," he said. 'He just wants to go back to school and graduate."
Inside Higher Ed reports that UCF originally found Lutz in violation of "local, state and/or federal laws of the 'Rules of Conduct'" but later dropped those charges after an appeal. Lutz now faces charges of "disruptive conduct and harmful behavior."
The case is being reviewed by FIRE, the Foundation for Individual Rights in Education, whose Ari Cohn said Lutz's situation is "a classic FIRE case."
"Mean speech about another person is not unprotected by the First Amendment," Cohn said. "If it was a campaign of harassment where he called her house every night at two o'clock in the morning, then perhaps there would be a hat to hang those charges [in the original suspension] on. As it stands, he posted the letter once … in fact, the state's attorney declined to prosecute the cyberbullying [charge]."
UPDATE: USA Today reports that UCF has now reversed its decision on suspending Lutz, stating that "there were 'irregularities' that could have affected the outcome of [his] conduct hearing":
In the documents attached to a statement from Lutz and Stuart, Michael Gilmer, the director of UCF's student conduct office, wrote that the "charges brought forward in this case were not supported by the original documentation received."

"Upon review, it appears that the conduct charge on disruptive behavior was improvidently levied," Gilmer wrote.

Gilmer added that though Lutz's ex-girlfriend, whom Gilmer identifies as a "high school student with plans to attend UCF in the future," experienced "substantial emotional distress," Gilmer could not conclude that her distress was due to Lutz's tweet or to the attention that the tweet received.
Read the full Herald and IHE articles.
MORE: Student arrested for calling his classmate 'homoerotic' gets N.C.'s cyberbullying law overturned
MORE: News flash to student senators: Being mocked on Tumblr is not 'cyber-bullying'
Like The College Fix on Facebook / Follow us on Twitter