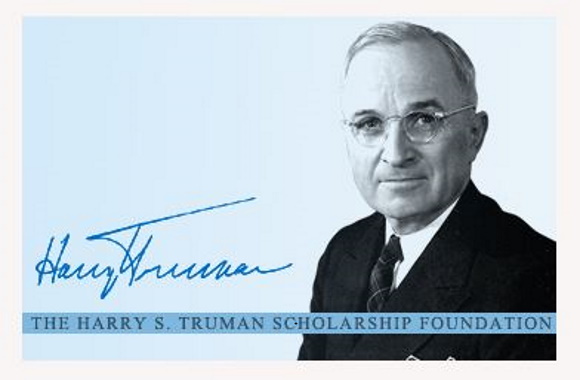 2022 Truman Scholarship awards once again dominated by Democrats, progressives
The 2022 recipients of the prestigious federal Truman Scholarships once again lean heavily toward Democrats and progressives, according to an analysis by The College Fix.
Of the 58 scholarship recipients announced last week, only three have any connection to Republican politics. At the same time, five recipients have connections to Democratic politics, while an additional 35 more list a progressive cause as their primary area of advocacy.
The primary interests of the 35 progressive-leaning students granted the award in 2022 included environmental justice, "menstrual equity," transgender rights, Latinx political engagement, diversity and inclusion, intersectionality, gun control, and the "gendered impacts of uranium mining."
One student aims to set up a "safe space" for his school's "multicultural male students and faculty to receive free food, haircuts, and showcase vulnerability as strength through meaningful conversations."
Of the remaining awardees, 15 have political leanings that could be considered neutral or non-political.
The highly prestigious $30,000 scholarship is granted each year to a new set of college juniors to help them attend graduate school. The award was established by Congress as a nonpartisan federal program, and recipients must pledge to serve three of their first seven years after graduation in public service. It is granted to "persons who demonstrate outstanding potential for and who plan to pursue a career in public service."
But, as has been demonstrated year after year with annual reviews conducted by The College Fix, "public service" is considered by the foundation to be a primarily progressive undertaking.
In 2021, for example, zero Truman award winners publicly identified as a conservative and only one worked for a Republican office holder or organization. Conversely, 37 listed an overt progressive cause as one of their primary interests and an additional six had worked for Democratic politicians or organizations.
Truman Foundation Executive Secretary Terry Babcock-Lumish was out of the country and could not respond to questions posed by The College Fix. However, in past years, Babcock-Lumish has defended the ideological makeup of award recipients.
"Any single Truman class includes both Republicans and Democrats, as well as those with other or no affiliation," Babcock-Lumish told The College Fix in an email last year. "We are also pleased to see individuals working in expressly bipartisan or nonpartisan ways on issues about which they care."
Babcock-Lumish told The Fix that the Truman Foundation does not ask for applicants' political affiliations, saying there are winners who have worked for Republicans, "yet this may not be reflected in their brief bios (which they write and submit)."
In 2020, only four students had worked for a Republican politician or a conservative organization, while 19 winners had worked for either a Democratic politician or a progressive organization and another 25 had a progressive issue as one of their primary causes.
In 2019, The College Fix found that only three of the Truman Scholarship recipients had worked for a Republican politician or conservative organization, while 19 had worked for Democratic politicians or progressive organizations. An additional 21 recipients, or 34 percent, had advocated for overtly liberal causes.
Among the issues The Fix categorizes as politically "neutral" are mentoring political refugees, combating political polarization, better understanding the neurobiology of pain, raising money for pancreatic cancer research, and fighting the opioid crisis.
Since individual universities are in charge of forwarding nominations to the Truman Foundation, its board is limited in who they may select as winners. If professors who select nominees are sending only progressive candidates to the Truman board, even if the board members are nonpartisan, the selections will by default lean heavily to the left.
The five 2022 award recipients with ties to Democratic politics include a former intern for U.S. Senator Jon Ossoff (D-Ga.), a current staff member for Rep. Adam Schiff (D-Ca.), a leader in the College Democrats, and a former delegate to the Democratic National Convention.
The three recipients with ties to Republicans include a former intern for Sen. Josh Hawley (R-Mo.), a former intern for Sen. Mitt Romney (R-Ut.), and a president of a local chapter of College Republicans.
Of the 2022 recipients, 37 percent are white, 20 percent are black, and 16 percent are Latino. The awards include two Native Americans. Of the award winners, one is openly transgender and one more has adopted "they/them" pronouns.
The Truman Foundation was led by former Secretary of State Madeleine Albright until her death earlier this year.
MORE: Prestigious federal scholarship once again all but excludes self-described conservatives
IMAGE: The Truman Foundation
Like The College Fix on Facebook / Follow us on Twitter