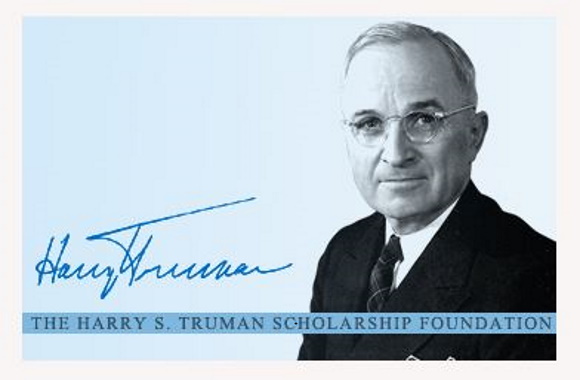 Of the 62 recipients of this year's prestigious $30,000 Truman Scholarship, zero winners publicly identify as a conservative and only one has worked for a Republican office holder or organization, according to an analysis by The College Fix.
Of the students receiving the award, which is supposed to be bipartisan, 37 list an overt progressive cause as one of their primary interests and an additional six have worked for Democratic politicians or organizations. The political leanings of the remaining 19 students are unknown.
This year's batch of Truman Scholars was announced last week. The highly prestigious award is granted each year to a new set of college juniors to help them attend graduate school. This year, the Truman Scholars were selected from 845 candidates nominated by 328 colleges and universities, which the organization says is a record.
The award was established by Congress as a nonpartisan federal program, and recipients must pledge to serve three of their first seven years after graduation in public service. It is granted to "persons who demonstrate outstanding potential for and who plan to pursue a career in public service."
It was the second time in four years that self-identified conservatives were completely shut out of the awards. In 2018, 36 percent of the winners had worked for a Democratic candidate or organization and another 43 percent had listed a progressive cause as their mission, according to a College Fix analysis. The political leanings of the remaining students were undetermined.
As in years past, The College Fix analyzed each of the 62 award recipients for 2021 using their official biographies and self-reported work histories on LinkedIn.
"Any single Truman class includes both Republicans and Democrats, as well as those with other or no affiliation," foundation Executive Secretary Terry Babcock-Lumish told The College Fix in an email. "We are also pleased to see individuals working in expressly bipartisan or nonpartisan ways on issues about which they care."
Babcock-Lumish told The Fix that the Truman Foundation does not ask for applicants' political affiliations, saying there are winners who have worked for Republicans, "yet this may not be reflected in their brief bios (which they write and submit)."
She also noted "Truman Scholars serving in uniform would be restricted from partisan work on behalf of a political party or candidate." However, the political affiliation of the two service academy members in The Fix's analysis are both categorized as "unknown."
Which students participate in the program is largely up to individual schools that decide which of their students to put forward as candidates. Typically, campuses have a dedicated faculty representative that works with the Truman program to forward nominations for the award, and each school is allowed four nominations.
Thus, if a campus is overwhelmingly progressive, it follows that the school would nominate candidates that share their ideological views. And the Truman board can only pick from the candidates that are sent to them.
Among the Democratic politicians Truman winners worked for were Senator Chris Coons (D-Del.), presidential candidate Beto O'Rourke, and Louisiana Gov. John Bel Edwards. One student chaired a subcommittee on climate change for Connecticut Gov. Ned Lamont.
The primary issues among progressive award winners included reparations for Native Americans, feminism, abortion services, environmental "sustainability," gun control, and Black Lives Matters-related activism.
One of the award winners, an economics student at Michigan State, interned at the conservative American Enterprise Institute and interned with the White House Council of Economic Advisors during the Donald Trump administration, but his political affiliation remains unclear.
Among the issues The Fix categorized as "neutral" were stopping violence against women, reducing the stigma against incarcerated persons, supporting programs that enriched Jewish lives, immigration, and "creating jobs with high employment capital" (from a transgender University of Virginia student.)
Awarding the scholarship to reward progressive activism is a well-established trend.
In 2019, The College Fix found that only three of the Truman Scholarship recipients had worked for a Republican politician or conservative organization, while 19 had worked for Democratic politicians or progressive organizations. An additional 21 recipients, or 34 percent, had advocated for overtly liberal causes.
In 2020, only four students had worked for a Republican politician or a conservative organization, while 19 winners had worked for either a Democratic politician or a progressive organization and another 25 had a progressive issue as one of their primary causes.
It isn't just the Truman scholarships that have prioritized progressive activists. A 2020 analysis by The Fix found that of the 32 Rhodes scholars selected last year, only 13 had biographies that are uninvolved with progressive causes. The students that were not overtly liberal were primarily involved in the physical sciences.
"We are only able to review applicants nominated by colleges and universities participating in the annual Truman Scholarship competition," said Babcock-Lumish, adding, "We encourage you to inspire your readers to apply."
MORE: Left-leaning students once again win vast majority of $30K federal Truman Scholarships in 2020
IMAGE: The Truman Foundation
Like The College Fix on Facebook / Follow us on Twitter