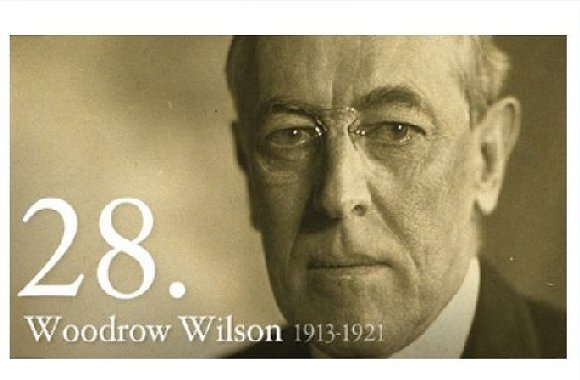 In keeping with the spirit of the myriad protests precipitated by the killings of George Floyd and other black Americans at the hands of police, Princeton University will officially remove the name of Woodrow Wilson from its School of Public and International Affairs and student residence.
Wilson, the 28th president of the United States, served as president of Princeton from 1902 to 1910.
As noted by Princeton President Christopher Eisgruber in a statement earlier Saturday, Wilson's racism "was significant and consequential even by the standards of his own time."
"He segregated the federal civil service after it had been racially integrated for decades, thereby taking America backward in its pursuit of justice," Eisgruber said of the former president. "He not only acquiesced in but added to the persistent practice of racism in this country, a practice that continues to do harm today."
Ironically, students from the School of Public and International Affairs recently issued a set of demands, but removing Wilson's name wasn't one of them. But five years ago, as noted by Eisgruber, students who had occupied his office had made that very demand.
After that incident, the so-called Wilson Legacy Review Committee "conducted a thorough, deliberative process," but ultimately left the Wilson name on the school and residence.
Wilson's segregationist policies make him an especially inappropriate namesake for a public policy school. When a university names a school of public policy for a political leader, it inevitably suggests that the honoree is a model for students who study at the school. This searing moment in American history has made clear that Wilson's racism disqualifies him from that role. In a nation that continues to struggle with racism, this University and its school of public and international affairs must stand clearly and firmly for equality and justice. The School will now be known as "The Princeton School of Public and International Affairs."

The University had already planned to close Wilson College and retire its name after opening two new residential colleges currently under construction. Rather than ask students in the College to identify with the name of a racist president for the next two years, the University will accelerate retirement of the name. The College will instead be known as "First College" in recognition of its status as the first of the residential colleges that now play an essential role in the residential life of all Princeton undergraduates.
Eisgruber said the university honored Wilson "not because of, but without regard to or perhaps even in ignorance of, his racism" — and this "is ultimately the problem."
Princeton is "part of an America that has too often disregarded, ignored, or excused racism."
MORE: Princeton to keep Wilson's name but disparage him, put up 'diverse' art
MORE: Univ. of Texas to remove Jefferson Davis, Woodrow Wilson statues
IMAGE: WhiteHouse.gov
Like The College Fix on Facebook / Follow us on Twitter