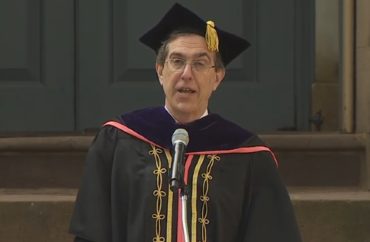 He fanned the flames before affirming professor 'can be answered but not censored or sanctioned'
Joshua Katz won't be investigated for wrongthink after all.
Princeton University President Christopher Eisgruber walked back his administration's threat to investigate the classics professor for publicly criticizing faculty demands for preferential treatment of nonwhite scholars, including "summer salary" and longer sabbaticals, and an end to academic freedom for certain viewpoints, even among nonwhite scholars.
Katz also called a defunct student group, the Black Justice League, a "small local terrorist organization that made life miserable for the many (including the many black students) who did not agree with its members' demands."
He said he recently witnessed an online Maoist "struggle session" led by one of the league's former leaders against a former classmate, "egged on by over 200 supporters who were baying for blood."
In an op-ed in The Daily Princetonian Monday, Eisgruber (above) belatedly defended "Katz's freedom to say what he did" under Princeton policies, which also "protected the Black Justice League's" activism. Katz (below) "can be answered but not censored or sanctioned," the president affirmed:
In the days since I objected to Katz's comments about the Black Justice League, several people have written to me to say that other portions of his essay contain important arguments worth considering. I agree. …

We need to build a public space where disagreement does not automatically paint someone as an enemy. That type of space, so crucial to learning and research, is harder to maintain today than it has ever been. Modern communication tools make it all too easy to attack when we should be engaging and to shout when we should be listening. Rigorous, respectful debate is not a barrier to change — it will make our ideas stronger and their impact more lasting.
MORE: Katz critics try to cancel him for denouncing black terrorism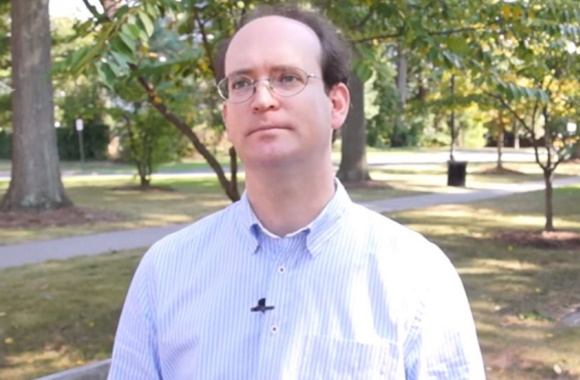 This was a stark reversal after Eisgruber himself fanned the flames against Katz by saying he had failed his "obligation" to share his viewpoint "responsibly." The administration made clear the professor could be punished for his speech in some fashion when a spokesperson said it "will be looking into the matter further."
Investigating protected speech is considered a chilling effect that is unconstitutional at public universities but also may violate private universities' contractual promises to faculty. (Princeton approved the so-called Chicago Statement protecting both freedom of expression and academic freedom more than five years ago.)
Just as it denounced the "chillingly illiberal" faculty petition, the Foundation for Individual Rights in Education denounced the administration for this "ominous" statement against Katz, saying that "the mere threat of an investigation can create a chilling effect that's at odds with the free exchange of ideas."
Eisgruber failed the test outlined by FIRE President Greg Lukianoff – that university presidents should defend student and faculty free speech rights "loudly, clearly, and early" – by fanning the flames against Katz rather than pushing back against calls for his punishment, the civil liberties group said.
While it applauded Eisgruber's belated declaration that "faculty members can have opinions" without facing sanctions, FIRE asked "What took so long?"
Free speech is a founding principle of higher education, eloquently enshrined in Princeton's own regulations with such forceful statements as, "[I]t is not the proper role of the University to attempt to shield individuals from ideas and opinions they find unwelcome, disagreeable, or even deeply offensive[.]" …

As Princeton tries to fix its reputation as a university where ideas can be challenged, debated — and, yes, encouraged — FIRE reminds university leaders that taking a strong stand for free speech should not be controversial for college presidents. In fact, it's their duty. Taking this duty seriously, by promoting a culture of free expression and clearly rejecting expectations of censorship, better equips community members to engage and critique opinions they disagree with, to the long-term betterment of the institution.
Read Eisgruber's op-ed and FIRE's post on the reversal.
MORE: In the George Floyd era, professors find themselves under attack
MORE: Scholar forced to resign for finding no anti-black bias in police shootings
IMAGES: Princeton University/YouTube, Grammar Revolution Movie/YouTube
Like The College Fix on Facebook / Follow us on Twitter