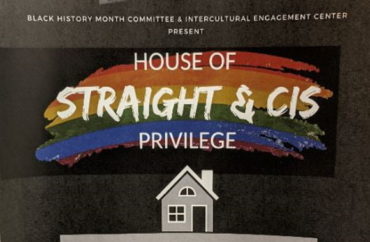 GREENSBORO, N.C. — Sports, clothing stores — even prisons — that divide people by sex and gender are examples of "straight and cis privilege," according to a large-scale display recently presented at Guilford College.
The "House of Straight and Cis Privilege" at the small and private liberal arts college in late February listed those examples and dozens more that benefit individuals who are straight and identify with their biological genders.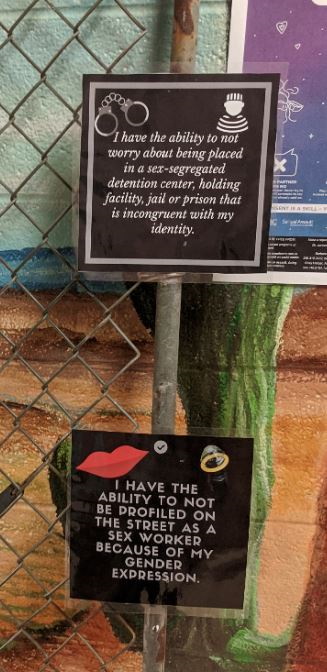 Other topics the large-scale display focused on that showed where "straight and cis privilege" can be found included places of worship, elementary schools, travel, and romantic relationships.
The guided tour invited participants to "immerse yourself in the daily privileges denied to LGBTQIA individuals, especially the compounded oppression affecting Black LGBTQIA people," organizers stated on a flyer, adding students who toured the house should "reflect on the privilege you may hold as a straight and/or cis-identifying individual."
The college opened the exhibit for the students and public and required student Resident Assistants to attend as an educational experience. It was set up in the hallways of the Office of Diversity, Equity, and Inclusion and was a guided tour by LGBTQIA coordinators.
One stop dealt with housing. The tour guide mentioned college housing is largely gender-segregated by room or by floor, which can lead students to be housed by their biological sex rather than the gender with which they identify.
Another display along the path had shopping as the main target.
Examples cited included stores that divide clothing by male and female categories. Also noted was how cis-gender customers have a more comfortable time shopping, while trans individuals may prefer that stores forgo such organization and mix both genders' clothing together so as not to draw attention to themselves.
Sports was another topic taken on, with one sign stating: "I have the ability to play a professional sport and not worry about my athletic ability being overshadowed by my sexuality and by the fact that I share a locker room with the same gender."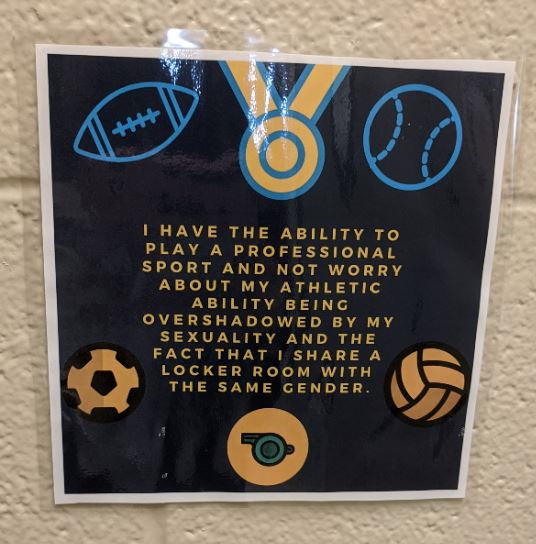 Sex-segregated prisons were also criticized, with a sign stating: "I have the ability to not worry about being placed in a sex-segregated detention center, jail or prison that is incongruent with my identity."
Asked whether someone might pretend to be a different gender to avoid being sent to a male prison, the guide responded "I think this goes back to the discussions that happened about bathrooms, the idea that one person might violate that privilege — is it worth taking it away from others?"
Media mass was also covered. The guide described how more traditional gender and romance norms are featured out of a "fear of the conservative," saying it's an attempt to avoid "backlash."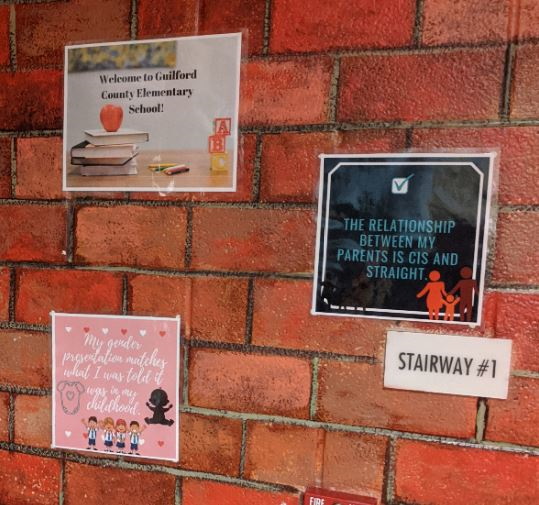 Another prominent display focused on elementary schools. The display alleged that elementary schools socialize students into their genders at a time when they cannot think critically about gender, and therefore it is important to avoid using gender norms in order to avoid pointing the students in the direction of one gender or another.
Signs dotting this section gave statements such as "My gender presentation matches what I was told it was in childhood" and "The relationship between my parents is cis and straight." Another sign in the relationship section had also noted: "The only sex education I received in grade school was cis and heteronormative."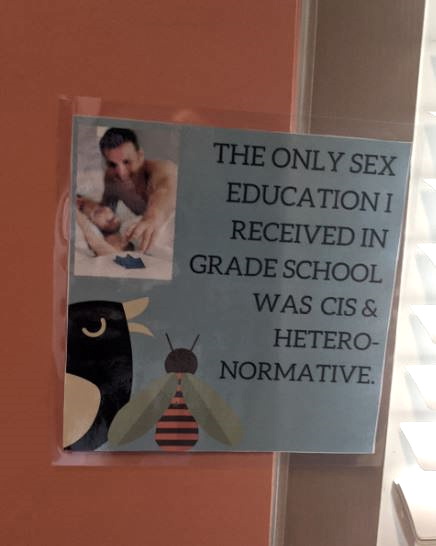 Signs on jobs, hair styles, houses of worship, TSA traveling issues and more peppered the tour.
Organizer Brian Thomas told The College Fix via email the "House of Straight and Cis Privilege" is a way to hit home the struggles those who are LGBTQIA face.
"This exhibit is important because it gives everyone who comes in contact with it the chance to acknowledge the moments in their lives where being straight and/or being cisgender makes things easier," he said.
Roughly 60 students were given a guided tour last month, organizers told The Fix.
"This exhibit's success is about exposure, whether that be passive or direct engagement. As this is only the 2nd year Guilford College has done this we are very happy with the turn out. Giving people that chance to identify or not-identify with the privileges shared in this exhibit furthers the Intercultural Engagement Center's mission of supporting the educational, spiritual, cultural, physical, financial, and emotional development of all students," organizers told The Fix.
MORE: White, male, heterosexual, Christian privilege is everywhere, college students told
Like The College Fix on Facebook / Follow us on Twitter