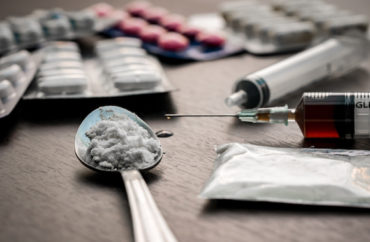 UPDATED
'We are unable to absorb the risks associated with the activity'
Campus chapters of a national student group that advocates drug legalization are in some cases flouting the larger organization's prohibition on drug testing services, distributing testing kits to allow users to determine what kind of substances they are ingesting.
Students for Sensible Drug Policy, which touts itself as "the largest global youth-led network dedicated to ending the War on Drugs," is known for advocating the decriminalization and legalization of drugs both in the United States and worldwide.
Yet the group takes no proactive stance on drugs themselves, saying that it "neither condones nor condemns drug use." It also strongly discourages its members from distributing or promoting drug testing kits, which allow users to determine the chemical compounds in the illicit substances they're planning to consume.
"SSDP does not sanction drug checking as a chapter activity," the group declares in its "Drug Checking Guidelines." The organization says it is "unable to absorb the risks associated with the activity. Chapters may not possess drug checking kits, allow others to use such kits, advertise such use, or conduct drug checking themselves."
Chapters have sometimes seemed to flout that rule. Last month, Brown University canceled a drug testing service offered by the school's SSDP chapter due to legal concerns. A campus spokesman said at the time that the program would have violated "a range of federal and state laws regarding possession of illegal drugs."
Yet other chapters at other schools appear to be offering drug testing services in varying degrees, though in some cases they have attempted to distance the actual chapter from the drug testing activity.
'We are trying to stay safe about it'
The SSDP chapter at the University of California, Santa Barbara has been handing out free drug testing kits to students for two and a half years. A May 2017 report in the campus newspaper The Bottom Line said the group chapter helped create the anonymous testing service on campus, which distributes kits to students to use in their own residences.
Julan Prasad, a member of SSDP at the time the school's article was written, said the school has "a really big problem with dirty molly," a slang name for the drug MDMA, or ecstasy.
"You have people having to deal with sketchy people, with cartels and drug dealers in order to have a good time. We are trying to stay safe about it."
"Our having test kits [aren't] making anyone do more drugs. It is just making them feel safer about it, and hopefully be safer," he added.
The campus chapter has promoted drug-checking activity as recently as last week, when it posted an event on its Facebook page inviting students to an on-campus "introduction to drug testing." That event would teach students "how to check for unwanted substances with DanceSafe drug checking kits."
The university did not respond to requests for comment on the testing kits. A representative of the SSDP chapter responded to a Facebook message and said he would pass along The Fix's request for comment to the chapter president, as well as check with group members to see if anyone would be willing to be interviewed about the testing kits. The group did not respond further.
'We can't allow unlawful use'
In May of this year, The Oberlin Review reported that the campus chapter of SSDP, having opened in March of this year, "supplies free and anonymous drug testing" to students on campus. The chapter's founder said the group offers students "unbiased, nonjudgmental peer-to-peer education about drugs, free and anonymous drug checking services, workshops on drug safety, and … a variety of outreach tactics designed to integrate Oberlin's drug education with the surrounding community."
Eddie Gisemba, Oberlin's director of health promotion for students, offered the paper what appeared to be a rambling justification for allowing the kits on campus:
We have a Department of Education mandate to essentially implement programming that supports the Drug Free Campuses and Communities Act. If we don't [implement that programming], then we can't receive federal funds. If we don't receive federal funds, we can no longer exist as an institution, because a lot of the students rely on that support to attend college here. … [In addition,] we are liable to fines if we do not abide by federal policy. … As it goes for SSDP, I think we've [engaged in] the conversation that can be facilitated between what are the policies that we can re-engage and consider modifying versus what can't we do. We can't allow unlawful use.
The paper reported that Gisemba said the testing falls within "the scope of lawful use."
The Oberlin chapter of SSDP did not respond to requests for comment. Reached via email, campus spokesman Scott Wargo stressed that the pro-drug group "is an independent student group and members of SSDP are acting in an individual capacity. Any action undertaken by students under the auspices of the SSDP is done so as an individual and not as a representative of the College."
"Oberlin College does not condone recreational drug use nor does the College endorse or permit any activity involving testing of illicit drugs. We encourage anyone who is struggling with drug abuse or addiction to please seek support and guidance," he added.
'On their own time'
The national SSDP organization did not respond to a phone call and emails seeking comment on Sunday and Monday. On its page, the organization takes pains to ensure that any students who engage in drug testing do so apart from the group itself.
"Any SSDP member who chooses to engage in drug checking agrees that they are doing so in an individual capacity," the guidelines state.
The chapter at Oberlin apparently attempted to conform to this rule when, in a Facebook post in May of this year, it advertised drug testing kits via Facebook. "All tests are administered by members of Oberlin SSDP on their own time, and Oberlin SSDP does not condone or provide testing services as an organization," the post read.
The clever workaround was belied in part by the fact that the advertisement for the testing services was posted on the official chapter Facebook page, a decision which seemed to suggest distribution by the group itself. The national guidelines also claim that student groups cannot "advertise" the use of kits, something that the Oberlin and Santa Barbara chapters appear to have done quite openly.
ACLU criticized school's cancellation of drug testing service
After Brown University cancelled its SSDP chapter's drug testing service, the American Civil Liberties Union criticized that school's decision, calling it "short-sighted."
"Across the country, medical professionals and others are recognizing that a focus on harm reduction, rather than prohibition, is a critical way of dealing with the nation's drug problem. That is precisely what it appears the SSDP program was aimed at," ACLU spokesman Steven Brown told The Fix at the time.
The spokesman pointed out that around the same time Brown University cancelled the drug testing service, it also announced a collaboration with state government officials in developing effective drug testing strips for heroin users to ensure their drugs aren't adulterated with fentanyl.
UPDATE: This article has been updated with a comment from an Oberlin campus spokesman that was received after publication.
MORE: University's wellness center approaches drug use with 'curiosity'

MORE: At Brown University, mixed messages on illegal drug use
IMAGE: one photo / Shutterstock.com
Like The College Fix on Facebook / Follow us on Twitter